Back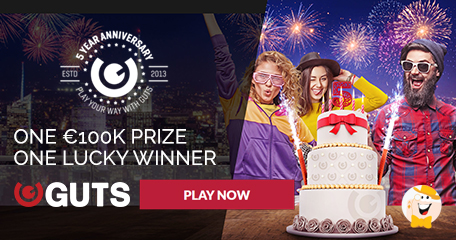 There is nothing like birthday celebrations, except for waaayyy extended birthday festivities, like the one Guts Casino has just unleashed upon unsuspecting gamblers. The site is turning 5 this year and they've lined-up a tasty treat for all party attendees, and we don't mean the cake. Oh; and, everyone's invited – as long as they're members of the casino!
The 5th Anniversary Raffle promotion is running until July 22nd, so it's safe to say there's enough time to join and reap the awards. The prizes are stunning: £100,000 in full-blown cash, iPad and iPhone 8. So, it may be their birthday, but they got YOU a gift!
Here's how it all works: you just need to opt-in for the promo any time before July 22nd. You get one raffle entry ticket if: you bet £1 on casino or sportsbook games and/or produce a rake of £1 in poker games and/or pay a £1 tournament fee and/or stake £1 via the Poker Casino. Only real money wagers will qualify to receive raffle tickets. If you manage to play through £100 in total, you get 10 weekly raffle tickets. A maximum of 10 tickets per week or 90 tickets throughout the qualifying period can be won.
On July 23rd, 5000 tickets will be drawn randomly for the final draw which takes place on July 25th at 8 PM GMT at Guts Exclusive Live Roulette table.
The main prize for the event is £100,000 in cash that will be credited to the winning player's account within 72 hours of the draw taking place. Ten other side prizes are 5x iPad Wi-Fi (each worth £319) and 5x iPhone 8 64GB (worth £699). Winners of iPads and iPhones will have seven days to redeem the voucher code.
We advise checking out the full T&C's in order to hold on to the old adage of better being safe than sorry. It's going to be an exciting summer!
"The 5th Anniversary Raffle promotion is running until July 22nd"
Promotions & Bonuses
Back to articles