Back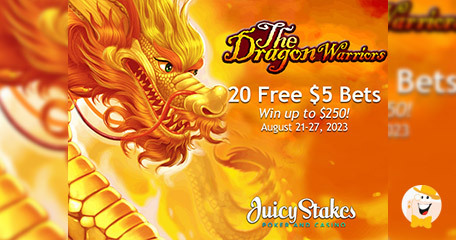 During this week, Juicy Stakes Casino is granting all players the opportunity to enjoy 20 complimentary $5 wagers on its slot game titled "Dragon Warriors." The casino boasts an extensive assortment of games provided by four prominent game developers: Betsoft, Nucleus Gaming, World Match, and Tangente. The game "Dragon Warriors" can be accessed by selecting the Tangente tab within the casino's interface.
Engage in the epic clash of ancient Chinese warriors battling for supremacy within the captivating slot game "Dragon Warriors," featuring a theme centered around dragons and a progressive multiplier. Following any spin that doesn't yield a win, the subsequent spin's winning multiplier increases by one, with the potential to soar to a maximum of 25X. Scatter symbols have the potential to trigger up to 25 casino spins.
EXTRA $5 BETS - 20 Times Over
From August 21 to 28, players are entitled to receive twenty complimentary wagers, each valued at $5, as soon as they launch the "Dragon Warriors" game. Any winnings are contingent upon fulfilling a rollover requirement of 30X. The standard terms and conditions of the casino apply.
Juicy Stakes offers an extensive array of both slot machines and table games from the game developers Betsoft, Nucleus Gaming, Tangente, and Worldmatch. Additionally, the casino features lively poker tables that are part of the Horizon Poker Network.
More Info on the Brand
Juicy Stakes Casino is a premier destination for thrilling gaming experiences. Nestled within its digital walls is a treasure trove of captivating games that cater to every player's taste. With an impressive lineup of slots and table games meticulously curated by renowned developers such as Betsoft, Nucleus Gaming, Tangente, and Worldmatch, Juicy Stakes Casino ensures a diverse and engaging selection that promises endless hours of enjoyment.
But that's not all – the excitement extends to the virtual poker tables as well. As a proud member of the Horizon Poker Network, Juicy Stakes offers poker enthusiasts a vibrant and competitive environment to test their skills and strategy. Engage in intense showdowns, outwit opponents, and claim your place among the poker elite.
Whether you're drawn to the allure of spinning reels or the strategic complexities of card games, Juicy Stakes Casino provides an immersive and user-friendly platform where entertainment knows no bounds. Seamlessly navigate through the extensive catalog, explore various themes, and experience the thrill of gaming like never before.
Backed by a commitment to fair play and transparency, Juicy Stakes Casino maintains a secure environment where players can focus on the excitement of the games without any worries. So come and indulge in the electrifying world of Juicy Stakes Casino – where every wager holds the promise of adventure and every spin sparks the anticipation of a big win.
Promotions & Bonuses
Back to articles