Back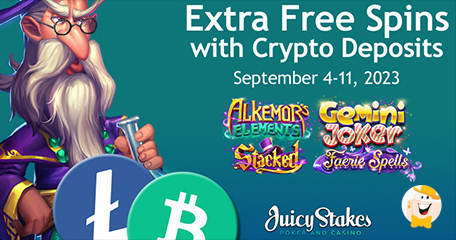 From September 4th to 11th, Juicy Stakes Casino is offering a fantastic opportunity for players to enjoy complimentary spins on four of Betsoft's most beloved slot games. Those who make deposits using LiteCoin or Bitcoin Cash will receive an extra 30 spins as a special bonus. The featured slots from Betsoft's enchanting collection include Gemini Joker, Stacked, Faerie Spells, and Alkemor's Elements.
Cryptocurrency has proven to be exceptionally swift and convenient for transactions, boasting remarkably low fees. As a result, Bitcoin Cash and LiteCoin have garnered substantial popularity among Juicy Stakes players.
Gemini Joker presents a thrilling gaming experience with its Golden Joker Multiplier Wild, capable of multiplying winnings by an astounding 32 times. The excitement doesn't end there, as full reels displaying identical symbols trigger an extra re-spin, and when all reel positions reveal the same symbol, players can spin the Multiplier Wheel for a chance to secure a multiplier of up to 10 times.
In the world of Stacked, players are treated to a captivating magic show performed by a skilled Magician. This enchanting act involves the Magician executing a Secret Trick that introduces a random assortment of face-down Mystery Cards onto the reels. The real magic happens when these cards are dramatically revealed, unveiling matching symbols for potentially lucrative wins.
The Faerie Spells slot game immerses players in an enchanting woodland realm where mystical beings brew potent potions in the shadows. Faerie Queens play a pivotal role in enhancing the gameplay by contributing multipliers and triggering a unique four-tiered jackpot game. Scatter symbols add to the enchantment as they explode, allowing new symbols to magically replace them.
What Else Is Included
Meanwhile, Alkemor's Elements promises an extraordinary adventure. During regular spins, players collect Elemental Wild symbols, setting the stage for Elemental Spells that activate every 10 spins. These spellbinding rounds can include four reels adorned with wildfire symbols, an impressive six Water or Air wilds, or a staggering ten Earth wilds. To add to the excitement, scatters have the potential to unlock up to 12 spins, making this game an enticing choice for thrill-seekers.
Below are the further details of the promotion:
BONUS SPINS WITH DEPOSITS -- EXTRA BONUS SPINS WITH CRYPTOCURRENCY DEPOSITS
Available September 4-11, 2023
30 Bonus Spins on Gemini Joker (60 with LiteCoin deposit)
Min. deposit $25
Coupon code: LITEJOKE
60 Bonus Spins on Stacked (90 with LiteCoin deposit)
Min. deposit $50
Coupon code: LITESTACK
30 Bonus Spins on Faerie Spells (60 with Bitcoin Cash deposit)
Min. deposit $25
Coupon code: BITFAE
60 Bonus Spins on Alkemor's Elements (90 with LiteCoin deposit)
Min. deposit $50
Coupon code: BITLI
Wagering requirement: 30X.
However, this is not everything as you can also expect the following offer:
$2000 BLACKJACK JACKPOT PRIZES – UP TO $500 EXTRA FOR WINNING HANDS
September 4-11, blackjack lovers can claim extra money when they receive Suited Blackjacks, or a Small Suite or Big Suite 21s. Blackjack is available under the Tangente tab and you are going to love it!
"astounding 32 times"
Promotions & Bonuses
Back to articles