Back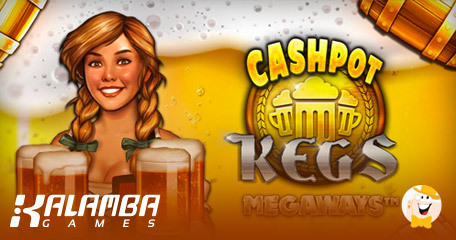 Step into the world of Cashpot Kegs Megaways™, an electrifying and adrenaline-fueled escapade where rapid-fire instant wins reach their zenith! This slot, inspired by the spirit of beer festivals, has now been elevated with the beloved Megaways™ feature. It boasts an array of four Buy Bonus alternatives, an exhilarating Bonus Spins spectacle, and an exceptionally low minimum bet threshold. These elements coalesce to create one of the most enthralling slot experiences currently available.
With its elevated volatility, seasonal motif, and a plethora of remarkable attributes, Cashpot Kegs Megaways™ is akin to a delightful afternoon spent at the local pub with cherished companions – exuberant, effervescent, and more exhilarating than ever before!
HIGHLIGHTS
CASHPOTS – Unlock a realm of 9 Cashpot tiers, triggered by hitting special symbols that unleash instant rewards!
MEGAWAYS™ – Embrace the unpredictability of dynamic reel heights that shift with every spin, enhancing the potential for monumental wins!
BUY BONUS – Skip the queue and dive straight into the heart of the action with a shortcut to the Bonus Spins game. Choose from 4 Casino Spins initiation options, including two with amplified Cashpot prizes.
EXTRA BONUS SPINS – Delight in the delightful beer-infused Bonus Spins game by collecting 3 bonus spins bonus accumulator symbols to unlock an additional 3 casino spins.
About the Brand
Kalamba Games stands as a prominent and innovative presence in the realm of online gaming, celebrated for its groundbreaking contributions and captivating game offerings. With a reputation for excellence, Kalamba Games consistently raises the bar of entertainment, delivering a diverse array of products that cater to a wide spectrum of player preferences.
At the core of Kalamba Games' success lies its unwavering commitment to crafting immersive and engaging experiences. The company's portfolio showcases a rich assortment of games, each characterized by meticulous attention to detail, striking visuals, and seamless gameplay. Whether it's the thrill of modern video slots, the allure of creative themes, or the excitement of innovative mechanics, Kalamba Games' creations resonate with both casual players and dedicated enthusiasts.
What truly sets Kalamba Games apart is its relentless pursuit of innovation. The company continuously introduces cutting-edge features that elevate the gaming experience to new heights. From inventive bonus structures to captivating narratives, Kalamba Games empowers players to embark on personalized gaming adventures, making each session an unforgettable journey.
Moreover, Kalamba Games places immense emphasis on responsible gaming. The company upholds the highest standards of fairness, security, and player well-being, ensuring that every gaming interaction is not only entertaining but also safe and responsible.
Source:
"Cashpot Kegs Megaways™ out now!", kalambagames.com, August 24, 2023.
"four Buy Bonus"
Casino Games
Back to articles