Back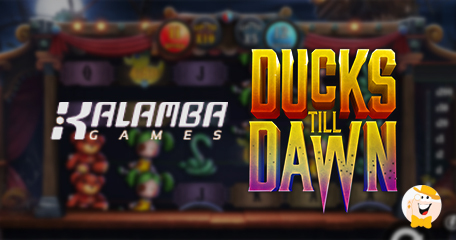 Renowned slots developer and gaming innovators, Kalamba Games, have taken the usually cheerful theme of fairgrounds and given it a rather sinister vibe. That's what their brand-new slot blockbuster, Ducks Till Dawn, is all about.
Sporting a spirited take on the legendary movie's title "Dusk Till Dawn," the slot is a very colorful and vibrant 4x6 affair, with 4096 paylines and a varying return to player rate of 96.91% to 97.69%.
At the Fairground
Ducks Till Dawn has a hit rate of 35.69%, a high volatility (8/10)…
…and a betting range between 60 cents and $60. The max win is 15,595 times the bet!
The theme is set in a spooky theme part, at twilight, where players encounter all sort of uncanny symbols.
Packed with features, the game has a fresh mechanics and a modern theme, accompanied with a thrilling soundtrack. Kalamba's game's features include Cash Ducks, Spinboost, Hyperbonus and, of course, extra spins.
In Cash Ducks, Ducks move across the reels and if a set of crosshairs 'shoots' a duck, the player will win the amount shown on the duck. If crosshairs land on multiple ducks, the win can be multiplied 1, 2, 5, 20, 50 or 200x for extra volatility.
In Spinboost, players need to fill the two meters at the top of the screen by playing the base game. Meters increase with each spin and when full an extra starting Free Spin is added up to a maximum of 15 free spins – great for engagement.
Hyperbonus takes players straight to the bonus spins game and get higher crosshairs multipliers.
Extra spins: Hit 3 Bonus Symbols to trigger the bonus spins game. Crosshairs multipliers are now higher, to a maximum of 10, depending on the column position of the duck when it lands.
Firedrake's Fortune
In late December, Kalamba Gaming, unleashed Firedrake's Fortune …
…another 6x4 layout offering with Vikings and dragon as main protagonists.
Speaking about this game, Kalamba Games cofounder Alex Cohen said:
"In this thrilling fantasy-themed slot, we offer a unique blend of features, including Kalamba's signature mechanics, across both engagement and monetisation metrics."
Source:
"Ducks till Dawn", kalambagames.com
"their brand-new slot blockbuster, Ducks Till Dawn"
Casino Games
Back to articles