Back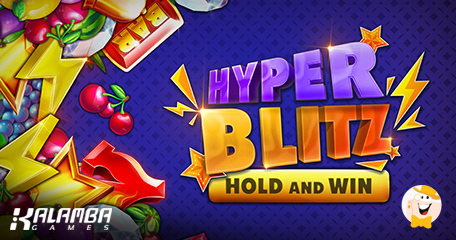 Get ready to be thrilled by the action-packed Hyper Blitz Hold and Win! This exciting game is filled with an array of fantastic features that will keep you on the edge of your seat. From Hold and Win Blitz Mode to Buy Bonus, HyperBet, Multiplier Wilds, and an expansive Bonus Spins game with an enhanced Blitz mode, Hyper Blitz Hold and Win delivers the exhilarating thrills of Las Vegas right to your fingertips.
Hyper Blitz Hold and Win offers a frenzy of golden opportunities and prizes, blending classic slots with modern game features. Whether you're at home or on the go, you can experience the electrifying Vegas-style excitement wherever you are.
Let's dive into the incredible features of Hyper Blitz Hold and Win:
HOLD AND WIN BLITZ MODE: Trigger 3 Blitz Mode spins by landing Cashpot symbols. Each appearance of a Cashpot symbol resets the spin count to 3. Aim to fill all positions on reels 2-5 with golden frames to win the displayed cash amount on top of the reels and one of the 6 Cashpot prizes.
BONUS SPINS: Activate 3 Free Hold and Win Blitz Mode spins by hitting three or more Bonus symbols. Strive to cover all reels (1-6) with golden frames to unlock even greater potential wins.
MULTIPLIER WILDS: Keep an eye out for these special symbols as they can lead to even larger prizes.
CASHPOTS: Collect the required number of Cashpot symbols to win one of the six levels of Cashpots.
BUY BONUS: Jump straight into the Bonus Spins Blitz Mode game with up to 10 spins and the chance for up to 3x Wild multipliers.
HYPERBET: Elevate your gaming experience by increasing the Wild Multiplier to 2x and starting with up to 8 Bonus Spins, available at two different levels.
Prepare yourself for an adrenaline-fueled adventure with Hyper Blitz Hold and Win, where big wins and thrilling features await. Immerse yourself in the excitement of this game and chase the golden opportunities that await you at every spin.
About
Kalamba Games is a prominent game developer in the iGaming industry known for delivering innovative and engaging casino games. Founded in 2016, Kalamba Games has quickly made a name for itself with its unique approach to game development and commitment to quality.
One of the standout characteristics of Kalamba Games is their dedication to creating games that captivate and entertain players. They strive to push the boundaries of creativity by introducing new and exciting concepts into their game designs. This includes innovative features, immersive storytelling, and stunning graphics that bring their games to life.
Source:
"Hyper Blitz Hold and Win out now!", kalambagames.com, July 13, 2023.
"Vegas-style excitement"
Casino Games
Back to articles