Back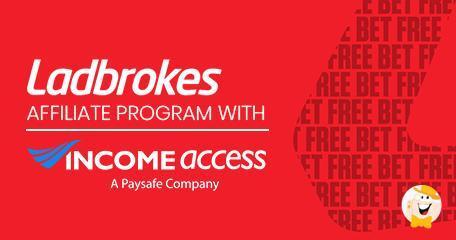 British-based betting and gambling company, Ladbrokes Coral, has announced a full-scale relaunch of its affiliate program which extends further collaboration with Income Access.
PaySafe subsidiary provides marketing services to all three online operators, and it remains an important strategic partner of Coral, Gala and Ladbrokes, as official report reads.
Marcom manager at LCG, Anat Schlesinger, commented in a short interview:
"As the Coral and Gala brands have worked with Income Access for a number of years, it felt like a natural for Ladbrokes to be migrated onto the platform.
Relaunching the affiliate programme also provides an opportunity to make essential updates and help Ladbrokes achieve greater synergy with Coral and Gala."
Important Milestone For Income Access
As expected, the leading technology and online marketing company for the iGaming industry, including lottery, is delighted with the latest agreement. Tara Wilson, general manager expressed her views:
"Partnering with Ladbrokes Coral Partners for this initiative is a very important milestone for Income Access, as we continue to establish a leadership role in the market.
Positioning ourselves to effectively meet the needs of one of online gaming's most lauded and respected brands is an accomplishment of which we're extremely proud."
The technology company has sponsored this year's AffiliateFEST – annual conference about digital achievements in iGaming. The event took place on September 19th at the Hilton Olympia in London.
Turbulent Year End For Ladbrokes
It is no secret that Ladbrokes had a rough year, which started with £71 million fine for deploying a corporate tax scheme. Moreover, the company was also investigated over alleged £1 million payment to victims of problem gambling, which additionally deteriorated its reputation...
In addition, GVC Holdings, an online gambling operator from the Isle of Man, has canceled CVRs at the beginning of January 2019, evading a £700 million payment. The reason for this is the UK government's decision to drop maximum FOBT stakes from £100 to £2 in April 2019.
Still, the operator has managed to seal a $200 million arrangement with MGM Resorts back in July 2018. The world's biggest casino conglomerate has entered into an agreement with GVC subsidiary to expand in the US sports betting market, a multi-billion-dollar sector.
Among the most recent news regarding Ladbrokes is also a 36-year old employee who got charged with stealing £7,000 from the company on November 24th and December 29th 2017. Nick Fryer appeared at Oxford Magistrate's Court on January 8th, pleading not guilty. He was released on police bail.
Source:
"Ladbrokes Coral and Income Access team up to relaunch affiliate programme", Nathan Joyes, gamblinginsider.com, January 8, 2019.
"a full-scale relaunch of its affiliate program"
General Gambling News
Back to articles