Back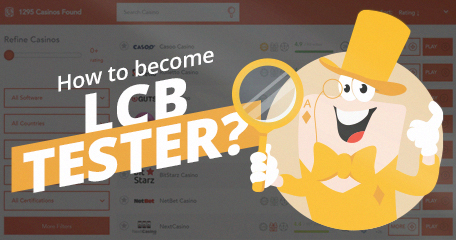 If you watched our January monthly news report, you might have heard our announcement about launching a new project whose aim will be to push the boundaries of player experience even further.
We at LCB.org are super excited to finally kick off one of our biggest projects since the foundation – From the Players for the Players – a massive, long-term undertaking directed at promoting responsibility, accountability and transparency among online casinos.
Nothing Like Personal XP
The idea of our latest project is to keep the casinos in check from signing up to cashing out – we are going to be testing everything! Trusting an online gaming hub according to player feedback, reviews and their own words is one thing, but nothing beats personal experience, coming straight from our members in real time!
You want to know more? Our team has come up with a unique solution to record the entire process from deposit to withdrawal and publish it online for everyone else to see. Here's an example:
That's where you, our members, step in. We are going to need YOUR help to create an elite testers team and let it out in the open for others to see, comment, expand their experience and learn something new. The best thing about this whole project is that we sponsor, you play and get to KEEP ALL WINNINGS in excess of the original deposit.
Before you continue, here's a quick summary of how the project will look like:
Our team creates a list of casinos to test and sponsor each reviewer with an average of $200-$300 per play
Testers are required to screen record each step with a free tool provided by us (the whole point of the project revolves around documenting the process of registration, depositing and withdrawal; personal and sensitive customer information will be blurred out)
Each auditor is duty-bound to abide by casino's T&Cs, complete KYC procedure, play, and cash-out a predetermined amount (e.g. $50 or whatever the minimum withdrawal amount is at the analyzed casino)
Testers get to keep their winnings (no matter the amount won) over the original deposit which is to be used for the next audit
Testers submit the report of the process to us and repeat
How to Take Part
Already want to join our early testers and leave mark on the iGaming industry by shaping customer experience? Pay a visit to our dedicated thread on the subject From The Players - For The Players: How to become LCB Tester? and apply for the project by telling us in short form a little bit about yourself (skills, gambling experience, theoretical knowledge).
To become an eligible LCB Tester, you must also meet the following criteria:
Be honest, experienced and disciplined with good forum rating
For the time being we will be looking for testers from the following countries: US, Canada, UK, South Africa, Finland, Germany, Australia, New Zealand, Ireland and the Netherlands.
To summarize, we are searching for 5 testers at this moment. Later on, the team will expand and include members from all 10 countries listed above. Private information will be kept safe at all times and edited for every published report.
Good luck with your applications!
"one of our biggest projects since the foundation"
LCB News
Back to articles