Back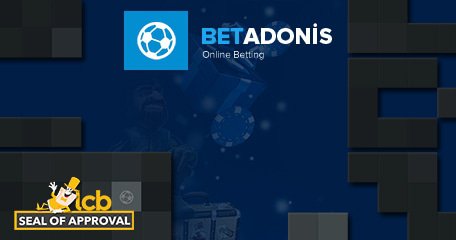 We are breaking open the bubbly in celebration of BetAdonis our latest Seal of Approval site. Unless you are well versed in Greek mythology you might not comprehend the meaning of "Adonis". He is handsome and a true ladies man as Aphrodite the Goddess of Love can attest. Although we are certain there is a large following of lady gamblers at BetAdonis, the men aren't trailing behind due to an exemplary online casino.
The talented team behind the site has created a multifaceted platform for ultimate gaming pleasure and convenience. When the mood strikes for action in poker, live betting, live dealer or sports, it's all there alongside the casino venue packed with entertainment.
Mixing a robust collection of software creates a recipe of flexible gameplay with hot slot titles like Jack in the Beanstalk, Blood Suckers and Lost Island. Video poker really heats up with up to 100 hands to play in a single game and table games that will keep the foot tapping, leg shaking, adrenaline rush going!
Ruslan is the rep on board who joined our Direct Support team in March 2016 and we must admit he's been pretty lonely there without a single complaint to contend with! That is when silence is golden and says a lot about customer satisfaction.
It is easy to understand why there aren't a flood of complaints coming in several reasons including daily max cash-out limits that are from skimpy, instead is quite generous alleviating any withdrawal frustrations on bigger wins. If you are a player who likes to take it slow and easy with low deposit minimums with a banking method to fit your needs, this is the spot. Customer support is always on hand to answer any questions that may arise.
Member comments:
"if you like me and prefer playing with real funds then this casino is great, the mobile and desktop sites worked perfectly on my mobile device and laptop, the casino is a nice addition"
"the low wagering requirements on the few bonuses that the casino offers will also appeal to players appetites"
Not only is it a site that LCB is proud of but quite surely Aphrodite would have fell head over heels for such a perfect representation of the Adonis name.
"a perfect representation of the Adonis name"
LCB News
LCB Approved Casinos
Back to articles