Back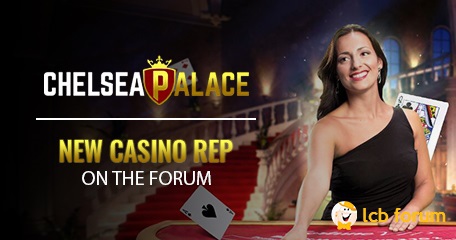 Casinos keep competing with each other as to which one will come up with an intriguing a name as possible, striving to gather as a wider spectrum of visitors. You will agree that "palace" DOES make you wonder if the services and offerings are indeed as imperial as the name implies.
As your curiosity keeps on growing, we have found just the right person to solve this mystery and give us some extra info about the newly-featured hub on our platform. Let us all warmly welcome the representative from Chelsea Palace, reporting for duty in the most efficient support forum in the iGaming universe!
Hats off to Top Hat!
Leaving a detailed note on a special thread, Niharika, who also represents Red Spins and Black Spins establishments, greeted our growing community starting the message as follows:
"Hi Everyone
I am Niharika, Affiliate manager of Top Hat Affiliates, managing Red Spins, Chelsea Palace and Black Spins Casino brands.
It's a great pleasure to be part of LCB. I am here to Introduce our brand Chelsea Palace (launched in October 2018) on a great site LCB."
Besides the opportunity to get in touch with the rep on our forum…
…the team offers all forms of support (e-mail, live chat, and telephone). As for the friendly introduction, the note features top five interesting facts about the brand.
Palace of Surprises
Speaking of surprises, those can be positive and negative, and to be honest, we find a bit of both in this venue.
To start with the good ones, besides multiple forms of support, the site is available in several languages and it has excellent cross-platform optimization.
The library hosts releases from several top-performing studios, including not only ever-green creations but fresh hits as well. Some of the titles are Pirate's Plenty: Battle for Gold, Respin Circus, Bonanza Megaways, Vikings go Berzerk, Starburst, and numerous others.
Knowing that punters do appreciate some extra content…
…the parlor displays several promotional packages, among which a noteworthy one upon registration. Though not explicitly clarified whether the venue offers the chance to join a loyalty scheme, the terms state that:
"Your deposits and cashouts are Instant, and you can get a free debit card, along with enjoying the special rewards program."
This leaves enough space for some (optimistic) assumptions. In addition to this, there's a fine selection of payment methods at your disposal.
And this is where we encountered something that could use some improvement. The processing time for withdrawals is a bit longer, and the monthly cash-out limit is below average.
HOWEVER:
"The maximum pay-out on our games is £250,000 per single spin except for any Progressive Jackpot pay-out. Progressive Jackpot pay-outs which will be paid in full."
All in all, the number of pros prevails, which means that this palace is certainly worth visiting.
"welcome the representative from Chelsea Palace"
LCB News
Back to articles