Back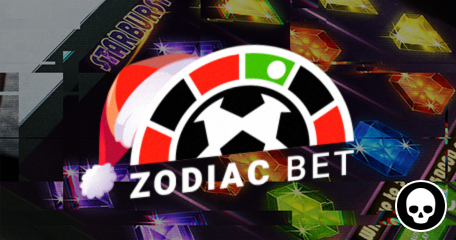 Operator Hosting Games on Delasport Provider via Pseudo Server Domain
Our team of investigators always keeps one eye open to make sure that the iGaming community is safe. One of its main goals is to spot software irregularities and teach players how to identify a potential scam in the rapidly evolving online gambling industry.
Knowing more about how things work when it comes to hosting online casino games could make a crucial difference in detecting a hoax, save you money and keep you away from unpleasant situations.
However, with the advance of technology, many software providers serve as targets to operators who want to earn a quick buck, making exploring of the growing and dynamic world of online gambling a form of bluejacking and spoofing, to put it mildly.
Over the years, our internal investigators have uncovered numerous rogue operators who had turned to the dark side, and this time, they bring you what's been recently discovered in ongoing scrutiny of Zodiacbet Casino.
Exploring the site, we came across suspicious-looking games from NetEnt and Novomatic, the industry's two most regular victims of piracy.
Delasport: One Domain to Rule Them All?
The first red light started flashing on October 14th, 2021 when our investigating team noticed that Zodiacbet was using the same domain for NetEnt and Novomatic games – cdn.igamingplatform.co; every player knows that the original domains differ, and are hosted exclusively on the provider's server. In this case, it should be https://nrgs-b2b-cstg.greentube.com for Novomatic and NOT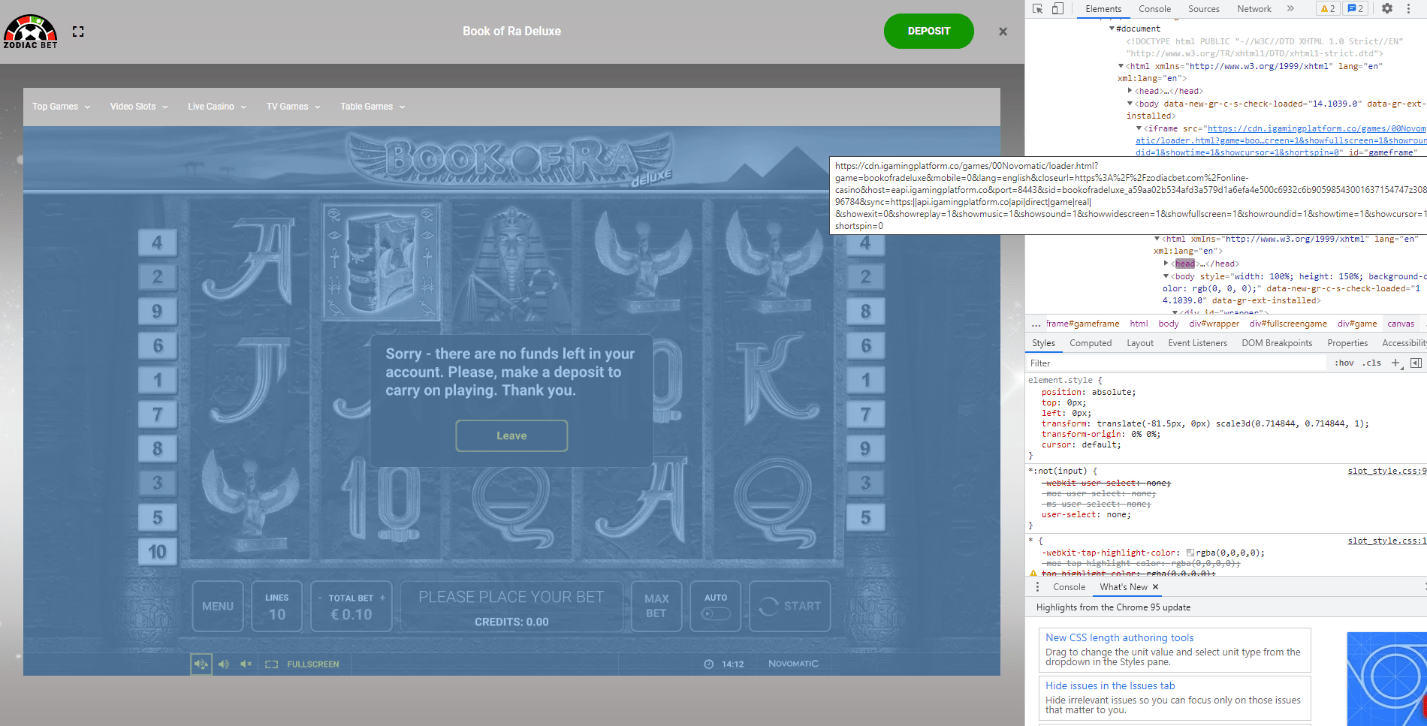 what we see here. To make things worse, further inquiry has soon revealed that Starburst from NetEnt, one of the most popular games at online casinos across the globe also runs on that same server, instead on the original source at this address: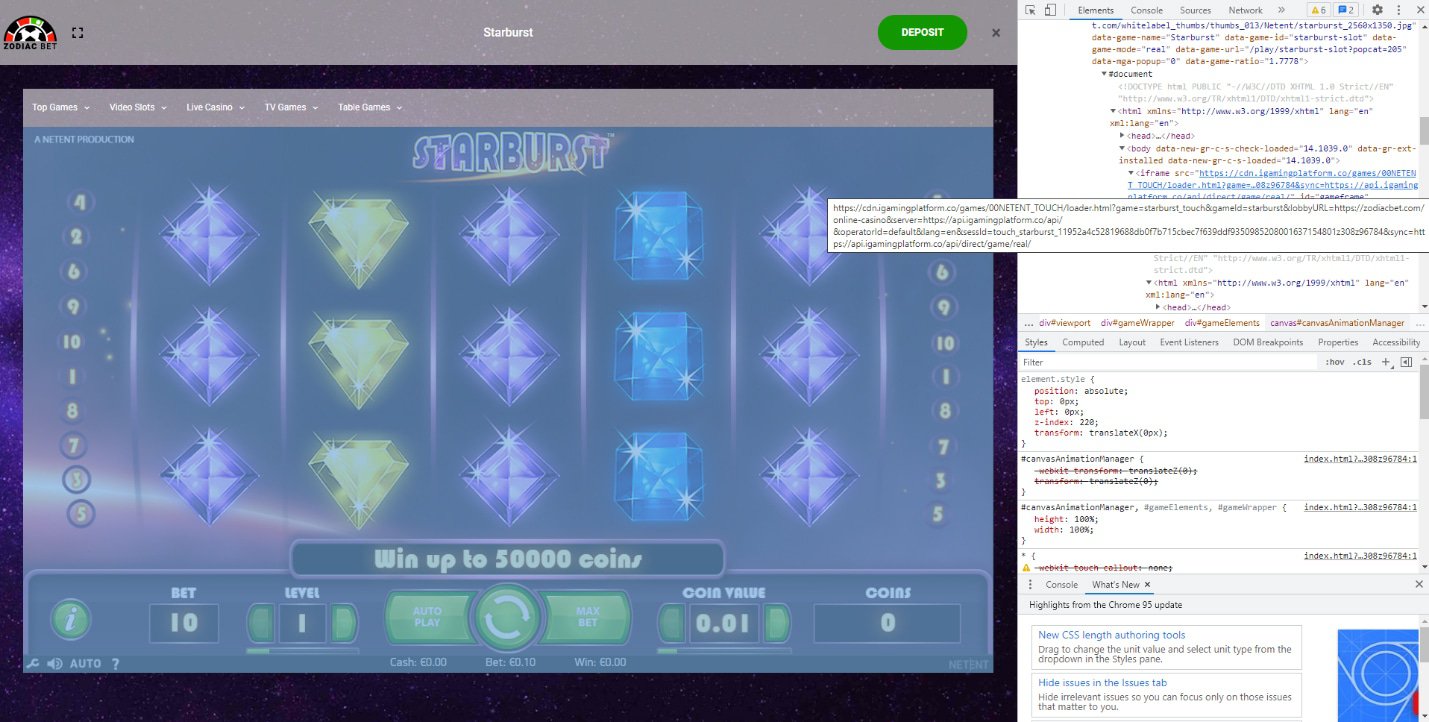 https://netent-static.casinomodule.com which can be found on the provider's website. Another blunder we were hoping to avoid seeing here refers to licensing; Novomatic software is restricted in certain countries, meaning its games aren't supposed to be visible AT ALL if the casino is regulated by the Curaçao Gambling Commission, for example.
To prevent any quagmires, we decided to immediately contact both NetEnt and Novomatic, and inform them about our findings. We then wrote to Zodiacbet to inquire more about the server.
Unfortunately, neither NetEnt nor Novomatic (Greentube) sent an answer. Sounds familiar?
Our team kept insisting on answers and did receive an email from a casino rep on October 27th stating the following:
"We are operating on Delasport provider* so it is all verified through them."
But, who is this Delasport, you may ask?
As advertised, it's an iGaming software solutions provider with over 25 years of experience, offering high-quality products, advanced technologies, and managed services for the gaming industry.
Its modern CMS & CRM Orbit platform allows betting operators to instantly set up a white label online casino and integrate a complete sports betting and management system, but…
…not even the game loader for Greentube / Novomatic games at Zodiacbet looks like the genuine game's loading screen, leaving room for suspicion when it comes to integrity and authenticity of software used by the operator!
To summarize, here is what's wrong:
The casino hosts Novomatic and NetEnt games on the same server, which differs from the original, verified servers that the providers use
The affected games have custom loaders
Zodiacbet is licensed in Curacao, however Novomatic software is not available to Curacao-licensed brands
There are no country restrictions for Novomatic games (we played from several locations where their software should not be available)
Neither NetEnt nor Novomatic answered our plea
Casino rep provided only an inadequate explanation
At the moment of writing this report, the suspicious games are still available at Zodiacbet Casino
Licensing of Zodiacbet is Also off Beam
Our investigators discovered irregularity at Delasport as well. If you take a closer look at their Malta Gaming Authority license on site, you will notice that the logo exists, but there is no actual link to the register on the MGA official site where anyone can check the LICENSEE REGISTRY.
Even if you navigate there on your own, you will not find neither the casino's name nor domain, which is an immediate RED FLAG!
As an authoritative, independent directory and reviewer of online casinos, known for battling piracy in iGaming, we will continue our investigation of Zodiacbet and insist on further explanations.
Since it's a delicate matter, we will give the operator enough time to consolidate and explain the game irregularities to the LCB community.
Not to fall short of your expectations, we invite you to check this page regularly and read our latest casino warnings about the brands going rogue.
If you want to be alerted when new rogue reports are published, please subscribe to our forum.
"Zodiacbet was using the same domain for NetEnt and Novomatic games"
Casino Warnings & Rogue Reports
Back to articles