Back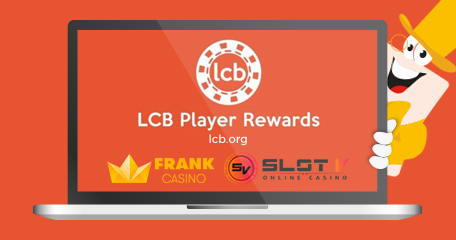 Exciting times at LCB's revered Member Rewards as not one but two online casinos become an integral part of this awarding scheme for our members who can get $3 LCB chip just for registering and depositing at these casinos!
The two casinos in question are SlotV Casino and Frank Casino and they are ready when you are!
About the Online Venues
Slot V Casino is licensed under Malta Gaming Authority and Curacao jurisdictions, which accepts a dozen of currencies, which includes digital assets such as Bitcoin, Etherum, Litecon and others.
With over 40 providers catering for the entertainment at this casino, there is plenty of games to go around. Most notable perks include a welcome package for new members, cashbacks, a loyalty program with redeemable comp points, slot tournaments, weekly lottery and more.
As for Frank Casino …
…bonus deposits, free slot tourneys, monthly cashbacks and tons of games are a regular occurrence, and this casino also provides cryptocurrency action to those willing to partake in it. It is also good to note that Frank Casino is available in English, German, Italian, Thai, Norwegian, Polish and more languages.
Nitty-Gritty of the Member Rewards
As our community keeps growing and more players join us, there are those who don't know what LCB Member Rewards stands for and, for them, we will reiterate this once again in this section. It's vital to remember that ALL there is to know about the scheme can be found on THIS PAGE. There you will find the entire list of all the casinos that are participating so you have a wide variety of those to choose from.
But...what does it mean, "to participate"?
Well, essentially – register at any of these casinos but – and this is important! - only using our affiliate link. Make your first deposit there and return to LCB and submit your username at this particular casino. We will be notified that you have made a deposit there and you will receive a $3 LCB Chip that you can redeem and spend in our Shop.
And that, would you believe it – is all!
Very simple, right? And it's one enjoyable way to get to experience different casinos and get rewarded at the same time.
What are your experiences with casinos that partake in Member Rewards? Are you a player at any of these? Drop us a line below!
"casinos in question are SlotV Casino and Frank Casino"
LCB News
Back to articles