Back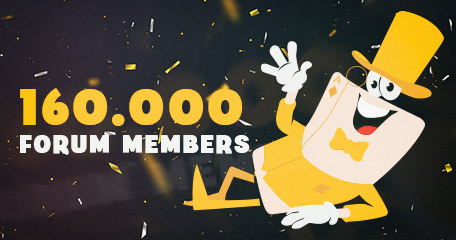 "Trust Is the Glue of Life!"
How time flies! Who'd say that it has been exactly two years since we celebrated a great achievement- 130.000 members on our rapidly-growing LCB Forum. Here we are now, proud to share another huge goal accomplished- 160,000 forum members.
Needless to say, we owe it to you, our members. It's YOU who believed in us, our big dreams, and ambitious projects and supported us by registering on the forum to help us spread the word.
The year behind us has been quite a great one for our team, so stay with us to summarize all the impressions and share other significant accomplishments with you!
Figures Speak for Themselves
There's no better proof that we are community players can trust than the fact that our forum expands steadily and welcomes so many new members for more than a decade and a half.
One of the first noteworthy achievements…
…was announced in December 2017, when we hit the 100K members milestone. A couple of years later, on April 14, 2020, we celebrated 130K members on the LCB forum, once again sharing tons of "thank you" to all those who've been with us throughout all these years.
Here we are in April 2022, proud to announce that we are still a must-visit place for all iGaming enthusiasts. 160K people have so far selected us as a valuable resource of all info, and we are pretty sure the numbers will continue to go upwards.
Celebrating a Decade and a Half in the iGaming Industry
On December 8, 2006, LCB went live as a modest 5-page platform with (only!) 33 casinos listed. Year after year, the site grew, and changed, still remained devoted to bringing more responsibility, accountability, and transparency to the iGaming sector.
Around the same time when LCB celebrated its 15th anniversary, we noticed some interesting coincidences which involved the number 15: 150K+ forum members and 15K+ news articles published.
Over the years, our team, composed of moderators, content writers, developers, designers, authors, publishers, account managers, customer support representatives, and others has been working diligently in making our mission come true. As hinted in the intro, 2021 was marked with multiple milestones, and we truly hope the upcoming years will be even more adventurous.
Continuing to Bring More Value to the Player
With so many casinos tested so far under the "From the Players, for the Players" project, so many websites which serve questionable content exposed and so many complaints resolved, all we can say is that there's no "mission impossible" expression in LCB dictionary.
If there's a situation where mediation is necessary…
…feel free to contact any of our mods and reps available on the direct support forum. In case you want to take a closer look at newly presented games or most recent partnerships, keep track of regulatory updates and promotional events, check out the section with the latest news.
Perhaps you want to have a couple of spins on some of the hottest slots or see how video poker works? No problem, our directory gathers a couple of thousands of free games. Curious to find out where the best online casino bonuses can be claimed? Suit yourself, there's a dedicated corner where all the offers are listed, including no deposit codes and bonuses.
Finally, we all know how convenient is to recap all the events and memorize significant information when they are wrapped up in a video format. That's why we put lots of effort into making our Youtube channel a must-visit destination for all serious players. It is home to the test reports, monthly recaps, promotions, and much more.
Speaking of, here comes our 2021 retrospective so enjoy!
What is it that you like the most about the LCB forum? Which section is your favorite one! Hit the comments section below and share your impressions with us. As always, gamble responsibly!
"it's YOU who believed in us, our big dreams, and ambitious projects"
LCB News
Back to articles