Back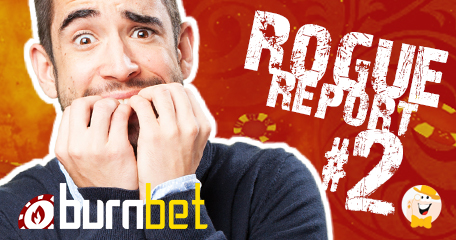 After publishing a warning report about pirated software at Burnbet Casino, the LCB team started receiving threats via email and Facebook, from a certain individual going by the name Tina, who claims to the be the CEO of Burnbet. At the same time, death threats were also directed through our live chat/messenger by persons under fake names, but with an IP address coming from Slovenia, the same country where Tina is allegedly from. Based on the location, writing style and poor use of English they all share, we suspect it is, in fact, one and same person behind all these names. Whatever the case may be, she, or them, are clearly acting on behalf of this gaming operator, repeatedly trying to intimidate us into removing all Burnbet-related content, that reflects their use of fake slots, suspect license information and other incriminating facts we have discovered in the wake of our investigations.
While this is certainly not the first time, for the team to suffer harassment and verbal abuse due to similar reasons, we take these issues very seriously and always document everything, in case we might be forced to take legal action in order to protect our safety and well-being.
Threats of Violence
As you can see in the previous report, our prior correspondence with Burnbet had some semblance of civility, when they were still hoping their futile justification efforts would result in us removing the compromising reviews. When we wouldn't budge, as they failed to offer a single good reason, they resorted to aggressive and relentless scare tactics via emails, live chat and Facebook.
These were aimed mostly at our co-CEO and Administrator Zuga, who was promised an imminent dispatch by Italian and Slovenian mafia, who these individuals claim a close connection to. Making their point, they even quoted a news article about Sicilian mafia boss Giuseppe Dianotti, who was gunned down on the streets of Palermo by Cosa Nostra.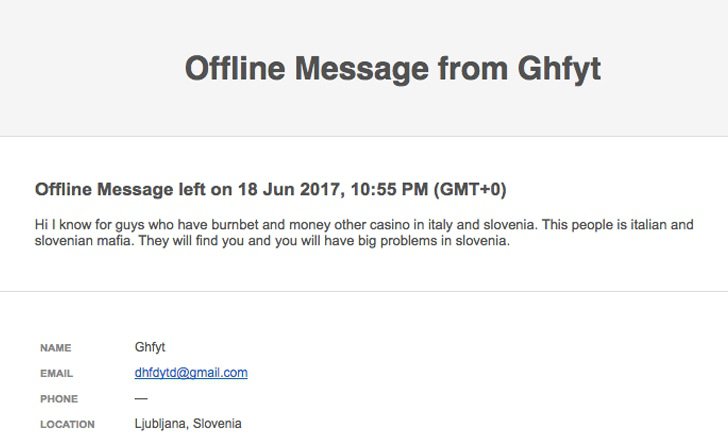 The Story Unravels
We were able to track Tina down on Facebook - her real name is Tinka Prinčič and she is working for, or is affiliated with Desoft Gaming. Back in December 2016, while investigating fake games at BetMaxValue and BetMaxTower casinos, LCB uncovered a connection between their main supplier Desoft Gaming, and another third party distributor 2WinPower, which also happens to be the software supplier behind Burnbet. There is undoubtedly a link between all of these groups, and we have evidence to back it up: below we provide screenshots from an email correspondence, where a Desoft support employee openly admits who their clients are: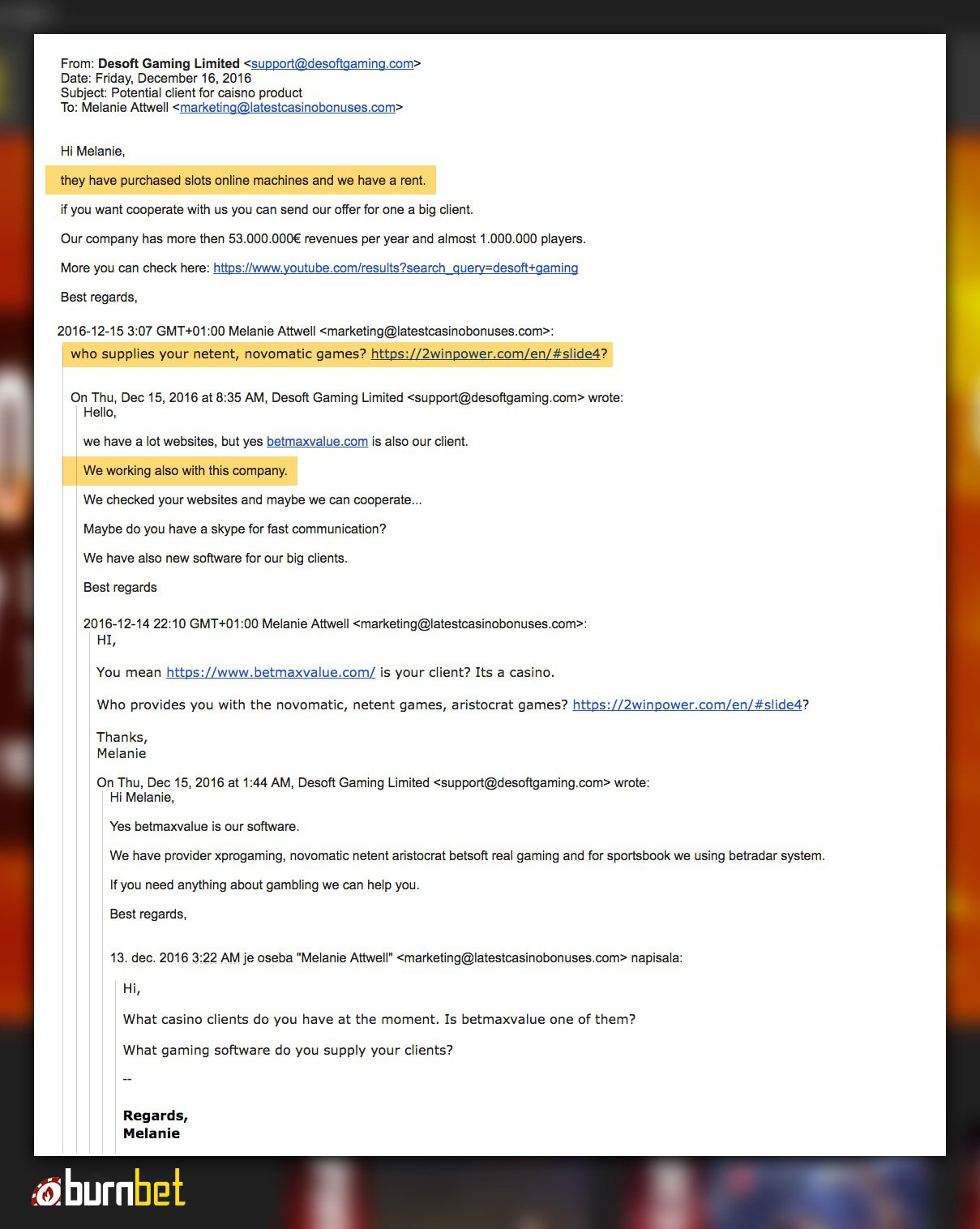 On her profile, Tinka mentions a familiar name - Dejan Krapež. This individual is listed as a director of Desoft LTD, but the interesting fact is that we have already corresponded with a person of the same name right here at LCB. He commented under the above-mentioned report which implicated his company into illegal software distribution, trying to do some PR damage control, albeit unsuccessfully. Since he was spamming the comment section, we removed his posts, but we still have them on the notifications, which you can see below: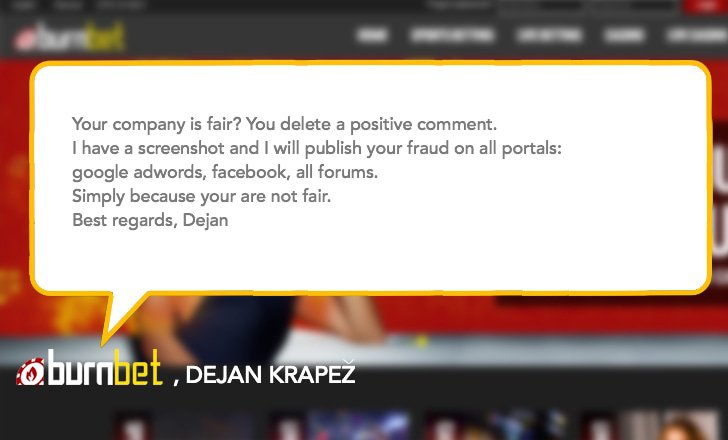 One of Burnbet's shills posted in the no-deposit section of the forums, under the name bet1985, pretending to be just another of their customers who was paid out and treated well. However, we caught them in a lie, as we were able to determine this shill has been creating multiple accounts. In his final incarnation, he signed up as a Rep and officially commented under the casino review, denying threats.
Furthermore, someone acting on behalf of this casino created a Facebook page, where false allegations are made about us asking for €20,000 to remove the compromising content! This is absolutely not true, and we challenge this person to provide evidence in support of this claim. The page was reported to FB.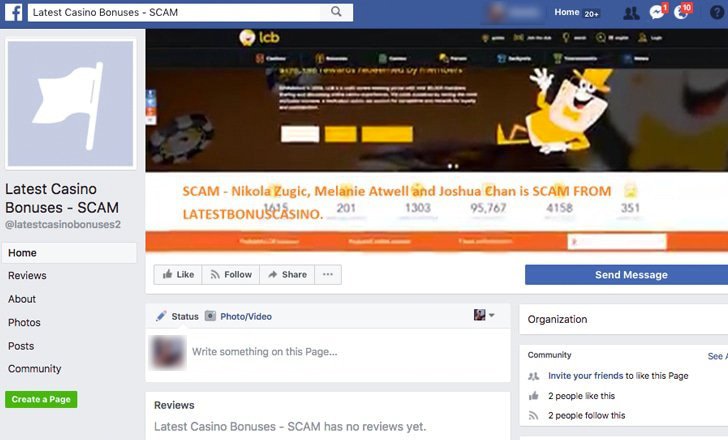 The Warning Remains
At first, we invited Burnbet to post their side of the story, or to send us a disclaimer with regards to pirated slots and their Curacao license, which we would publish on their behalf. They refused and failed to provide license proof, even though we were open for communication and showed willingness to help resolve this issue, if it meant the casino will consider removing fake games and reimbursing disadvantaged players.
Instead, we received only an extremely prejudiced, bigoted and hostile response. In a lengthy e-mail correspondence between the alleged Burnbet's representative Tina/Trinka, our marketing manager Melanie Attwell and Zuga, the casino has made the following claims:
they don't need our ''poor players from Balkan countries, who can't afford food, let alone gambling''
what they want are players with ''big wallets, who don't want to earn money, because everybody knows it is not possible to earn money in a casino''
they do not display a license link on their website, because ''it is not important for gambling operation''
claim to have been promised favorable marketing for a price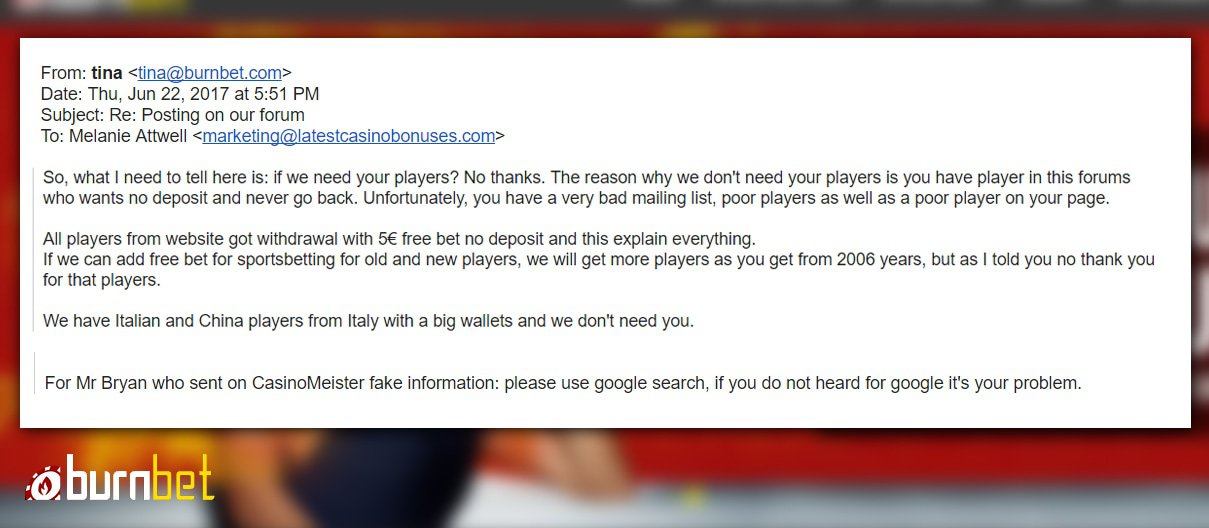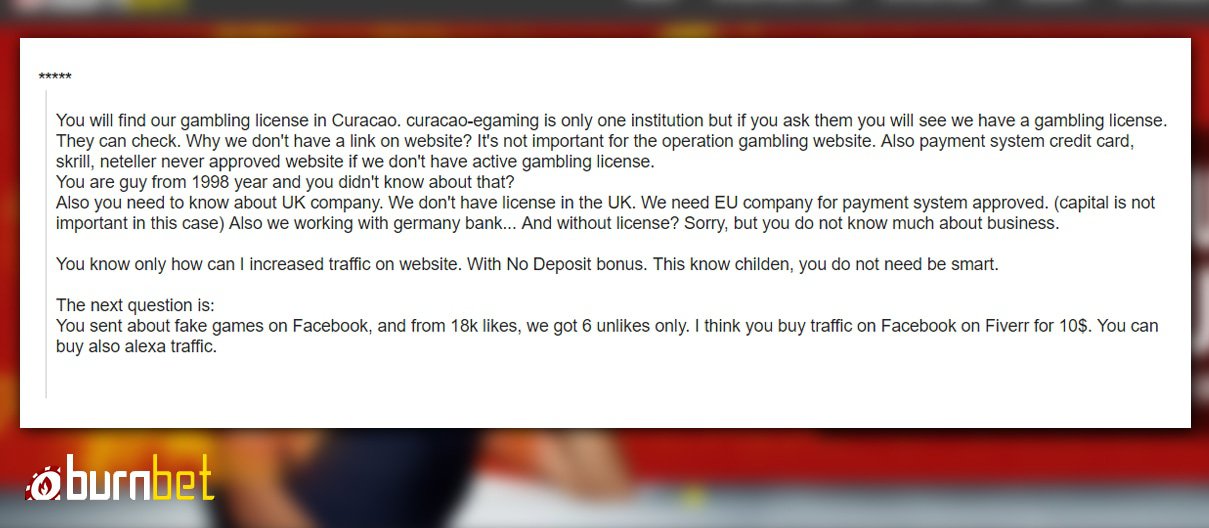 Now, we'd like to make one thing very clear. When we find a new casino, or one of our members posts about a new casino on the boards, our standard procedure is to sign up an affiliate account, contact the operator in question and offer to include their website in the LCB directory. For the listing we charge a small, one-time fee. This is to cover the basic costs of setting up a review, doing the necessary research and updating accordingly, which takes time and effort to do. We DO NOT, and WILL NOT charge for complimentary reviews. We make it perfectly clear, before any cooperation takes place, that the reviews published on LCB reflect HONEST research and player feedback, and are not affected by the listing fee in any shape or form. This explanation is included in every e-mail to every casino we make contact with, including Burnbet:
''payment of the review fee does not guarantee a positive review and we will evaluate your site on its merits from a players perspective. If you are happy to go ahead please advise your full company name and address so I can get an invoice out to you.''
LCB has always strived to improve the image and reputation of the gambling community and the industry as a whole, which has unjustly been frowned and looked down upon, thanks to predatory organizations looking for an easy way to generate profit. We take pride in this fact, and will never do anything to undermine our goals and accomplishments, or endanger the safety of players and genuine operators.
We will not be pressured into removing any Burnbet-related information from the portal, as it goes against our principles as a company, and as a group of sincere gambling enthusiasts.
Relevant links based on our report:
BurnBet Casino Rogue - Review by CasinoMeister.com
Burnbet Casino Warning - Video Review by OCR
BurnBet outed by Latest Casino Bonuses - Report by Livecasinocomparer.com
LCB receive death threats from Burnbet Casino - Report by Slotslistings.com
BurnBet Casino – Blacklisted and Rogue Casino - Review by OnlineCasinoReviewer.com
LCB staff received death threats from Burnbet Casino - Report by Freeextrachips.com
Burnbet Casino Issues Death Threat Against Reviewer - Report by Professionalrakeback.com
Burnbet Casino Threatens LCB After Their Piracy Exposed - Report by CasinoListings.com
BurnBet Casino Make Death Threats over fake scam games - Report by Casinowhizz.com
Casino reviewer met de dood bedreigd door casino eigenaar - Report by Onlinecasinoblog.nl
Warnung: Burnbet Casino mit gefälschten Spielen und Drohungen - Report by Wettgosu.com
Burnbet.com is now Blacklisted – Pirated Games and Death Threats - Report by Casinoscamreport.com
Burnbet Casino is rogue after death threats to LatestCasinoBonuses - Report by Casinobonusesnow.com
LCB receives death threats from Burnbet Casino amid fake slot scandal - Report by Worldcasinodirectory.com
Affiliate site LCB get threats from fake gambling software owner - Report by xbet.cc
"the LCB team started receiving threats via email and Facebook"
Casino Warnings & Rogue Reports
Back to articles