Back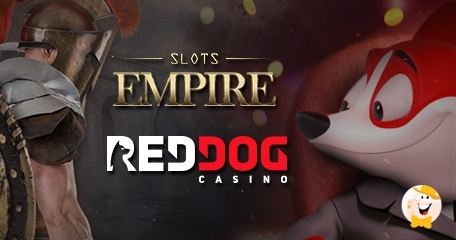 With no scarcity of action round these parts, you may be wondering how we've been distributing this excess energy that keeps us going and producing deluge of activity on our end. What with our Twitch streams winning everyone's attention...
...other aspects of our being and purpose may have ended up in a shade - but that's not to say we're not working on any of those! On the contrary: our Direct Casino Support programme has just got its latest reinforcement in a shape of a single man representing TWO online casinos: Slots Empire and Red Dog!
Daniel Is in the House!
Sure, it's a tough job but SOMEONE has to do it! And Daniel – our most recent appointment – is the man to do it. He joined our Forum and left an introductory message over at his dedicated thread where he'll be answering all your pleas and just - be there for you.
He writes:
"Hi Everyone!
My name is Daniel and I represent Red Dog and Slots Empire Casino brands.
If you have any questions or need any assistance I will be glad to reply and take care of you.
Our dedicated Customer Support Team is also available for you 24/7 via Online Chat, Phone or Email.
Welcome to our casinos and wish you the best of luck playing! :)"
Brief, to the point and with no excess wording to distract from the gist of the message. Just how we like it!
Finding the Perfect Balance
As usual, if you have any questions relating to any of these two casinos, you can join the thread in the Direct Casino sub-forum and just ask away...
...or, if you prefer, you can reach Daniel via direct message and he'll see to it that your concerns are dealt with in haste.
Now, with all that out of the way and with greetings and introductions all but done, let us take a closer look into the two online parlors of gambling purveyance we're talking about here.
Two Sides of the Same Coin
Belonging to the same operator that launched these two brands at about the same time, in February 2019...
...Red Dog and Slots Empire feel distinctly different, although they have more in common than meets the eye.
Red Dog (read our awesome review of it HERE) offers a lot and it stays devoted to pleasing players who need something extra in order to be persuaded to stay:
A big welcome offer on the first FIVE deposits, a lightning-fast registration process, mobile availability and a very unique Comp Points scheme that substitutes your usual VIP plan are all this casino's stronger arguments.
Slots Empire (another good review read HERE) is similar in everything, even appearance (save for color scheme). It has no withdrawal fees and boasts a mighty cool gaming library just like its canine counterpart.
In other words, you probably couldn't go wrong with at least trying out these casinos and now that you have our very own customer service representative to take care of you – have no care in the world!
"answering all your pleas"
LCB News
Back to articles