Back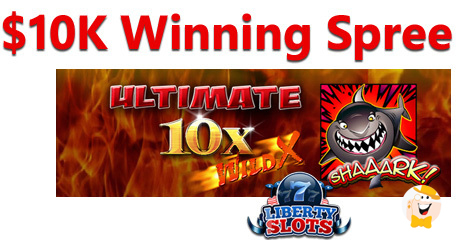 A Liberty Slots player has just received a valuable award while playing a popular slot game. A lucky customer made an incredible $3,750 on the first spin with the Ultimate 10X three-reel slot game. As soon as he switched to Shaaark! experience, he reached a total award of $10,000.
More About the Winner
The happy winner is Pam, a woman who lives outside of Boston. Pam has played at the popular Liberty Slots for more than seven years. Despite having some favorite titles, Pam chose to sample the Ultimate 10X option, famous for its progressive jackpot which could result in an incredible prize of $25,000. The slot comes from WGS and includes three reels and wild symbols for even greater fun.
Pam could hardly believe what happened when she pressed the slot button. The lucky player hit 3 wilds symbols and took an amazing prize of $3,750. Thanks to the 15,000X coin multiplier, her prize reached a spectacular amount all starting from a seventy-five-cent bet.
Winner's Impressions
Pam was more than enthusiastic about the jackpot prize. She stated:
"I think I had the game on auto-spin so I didn't even notice at first!" Pam told a Liberty Slots customer service agent. "Once I realized what was going on, I stopped that and let it sink in. Then, I just carried on playing. Using that win as a base I increased my bets and switched to a couple of other games. I like Shaaark! -- maybe because I grew up on the coast here in New England. Anyway, I got a free-spins bonus and won over $6,000. Now I'm sitting pretty with $10,000 in my account, all from a $0.75 spin on a game I'd never even looked at before today!"
On the same occasion, Liberty Slots casino manager Mark Ramirez expressed his opinion:
"We're really happy for Pam -- these are the type of events that make our day. It just goes to show that you can get lucky even when you're playing cautiously."
About Liberty Slots
Liberty Slots are famous for leading features and exceptional prizes. Players from all parts of the world enjoy incredible games from different devices including desktops, smartphones, and tablets. All games hold the Certificate of Fair Gambling seal and customers can enjoy in security and safety of the chances. Currently, Liberty Slots new players can take advantage of a 200% deposit bonus, up to $200, as well as 100 casino spins on the City of Gold game. Make sure to enter coupon code SPINCITY to use the option.
"The happy winner is Pam"
General Gambling News
Back to articles