Back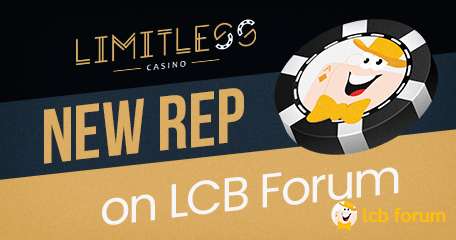 Our Ever-Growing Support Team Welcomes a New Assistant
Even when things are explained to the tiniest details, some minor issues may come up. Sometimes it's the wrongly interpreted Terms, sometimes it's a glitch in an online casino game or delayed payment.
When such a situation occurs, don't panic, as we've got you covered. Our team keeps welcoming diligent assistants from online casinos, ready to eliminate any problem and ensure a smooth player experience. For that reason, we'd like to introduce you to Limitless Casino rep, the most recently welcomed enthusiast in charge of answering members' questions on our forum.
Let's Hear It for Newly-Arrived Casino Rep
Just like other casino representatives welcomed to our support forum, an assistant delegated on behalf of Limitless Casino created a special thread for support and complaints stating as follows:
"Please feel free to address here any questions or concerns you may have regarding our brand. We will be glad to assist you anytime."
Aside from contacting the representative via this thread, players can send a direct message and have their questions answered. In addition to this, the casino itself offers e-mail support and has a well-organized FAQ section that covers some basic fields.
Speaking of support, Limitless Casino belongs to operators which appreciate protection and security, which is why its page is equipped with options to set daily, weekly, and monthly deposit limits.
Overview of Limitless Casino
Powered by SpinLogic Gaming, this US-friendly operator bolsters a colorful selection of slots, jackpots, table games, and video poker. In terms of themes and features, the offering is a highly diversified selection of adventures suitable for both fans of classics and those looking for more modern stories.
All the featured games are approved by Gaming Laboratories International (GLI), an independent test lab that audits and tests random number generators casinos-wide. Its mission is to ensure the games listed in a casino deliver 100% random outcomes, meaning the results are not interfered with.
With regards to bonuses and promotions…
…the operator packed its platform with all kinds of claim-worthy deals. As the casino supports cryptocurrencies, the majority of offers are tailored for users who prefer making transactions using this banking method.
On top of that, there's a 5-tier Loyalty Scheme where customers can expect freebies galore, deposit boosts, cashback, and more. Levels include Apprentice, Journeyman, Artisan, Master, and Grandmaster, each with a different and more valuable set of perks.
While the entire platform could be described as fantastic, one important piece of the puzzle is missing. The operator has no license. That's precisely what inspired us to take an even closer look and inspect how the casino handles deposits and withdrawals. Details of the investigation can be found in our insightful Limitless Casino test report, which encompasses the entire procedure from registration to withdrawal, including deposit, gameplay, and KYC.
Have you had the opportunity to check out Limitless Casino yourself? If so, we invite you to share your precious experience with us in the comments section below.
Always read the Terms, and play responsibly!
"ready to eliminate any problem and ensure a smooth player experience"
LCB News
Back to articles