Back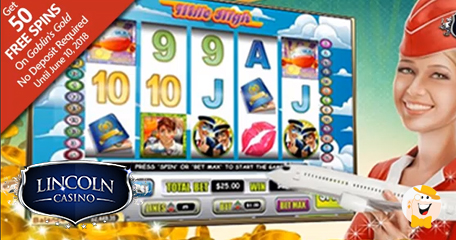 While honoring the brave men and women that fought for his country, a player started the Memorial Day weekend with an amazing winning streak totaling $96,040 on a single spin at Lincoln Casino. According to casino manager, Ryan Wilson, there were a lot of happy players at the venue last weekend, but only Darren G. managed to trigger two small jackpots so to speak, making this important holiday a day to remember.
Darren joined on Friday, May 25th and started by winning a tempting amount of $11,760 on Lucky 7s. Although he played a highly volatile progressive jackpot game for a couple of hours, he kept hitting small wins. Nevertheless, after landing three purple 7s with two Wilds, the game paid $240 with a 49X multiplier, totaling $11k. Since he got the necessary boost to switch to another game, Darren chose WTG's five-reel slot, Mile High. The slot features an airplane theme and carries a couple of bonuses and free spins with 16X multipliers. The combination seemed right and he decided to give it a go, said Darren G.
A couple of games of roulette and video poker followed, before it was time to have a shot at Mile High. Approximately 45 minutes later, while playing a free spin with a $6.25 bet, Darren struck five of the cheeky Pilot symbols on three bet lines with two Wild symbols on each line. The Wild symbols added a 16X multiplier, landing $32,000 on each of the three lines, plus some useful change on five others. In total, the lucky punter won $96,040!
They say that persistence pays off and in this case it is perfectly true. Darren has been playing at the site for about five years and we couldn't be happier for him getting this huge win, said Wilson. Let's face it, nailing a massive payout from a small bet is very rare, and our entire team is proud of him. The casino hosts an enormous collection of signature slots and premium casino games from WGS, which just launched Goblin's Gold. If you join until June 10th, you can win 50 free spins on the ghoulish new addition – no deposit required (coupon: GOBLIN50LC).
"amazing winning streak totaling $96,040"
General Gambling News
Back to articles