Back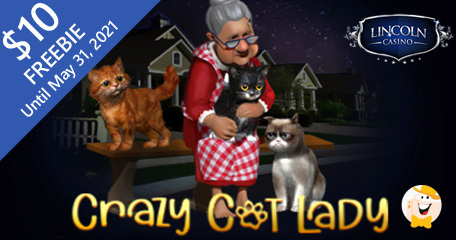 It was only during the last Christmas holiday season when Lincoln Casino launched a game from WGS titled Crazy Cat Lady. The game introduces an old woman and four feline companions. The game doesn't include Santa, elves, or jingle bells, and it isn't a typical release for the holidays. However, the slot seems to be very popular among players around the world.
The provider has just prepared a rewarding promotion on Crazy Cat Lady Slot, available until the end of May. All players who place bets on the famous slot will have an opportunity to claim a $10 freebie.
More About the Promotion and Official Statements
Crazy Cat Lady Slot includes 100 pay lines, four jackpots and a casino spins feature. The game has already paid about $130,000 in jackpot and you can access the title only for a dollar-worth spin.
During May, Lincoln Casino provides players with a $10 coupon as an introduction to Crazy Cat Lady and any other game. The deal is available under the Coupon Code MAYLADY10 and valid until May 31st.
Speaking on the new launch, casino manager at Lincoln online casino, Ryan Wilson said:
"Honestly, we were not excited about this game when we first saw it. We weren't sure how we were supposed to get people excited about this rather sad-looking game. But it took off almost from the word go!"
He also mentioned that the game has four jackpots that look to pay out multiple times a day. There is also a high level of customer satisfaction from the beginning of gameplay. Moreover, we can also speak about additional jackpots that go off all the time, so the game has resonated with users for many reasons.
He added:
"Our pets are important to us, but maybe we appreciate them even more during lock-downs. Maybe we're all becoming a bit like a Crazy Cat Lady!"
Carolyn from Arkansas who has placed bets at Lincoln Casino since 2019 said:
"I've won money on all four of the jackpots, but Sam is my favorite. He reminds me of my cat who loves sitting on my lap when I play. He reaches out his paws and tries to grab the cats as they're spinning in front of him!"
More About the Brand
Lincoln Casino has been in operation since July 2013, as one of the leading brands with a selection of games such as slots, table games, Blackjack, and video poker. The provider supplies players with excellent bonuses up to $5,000, weekly deposit bonus offer as well as the Lincoln Rewards loyalty program.
"The provider has just prepared a rewarding promotion on Crazy Cat Lady Slot"
Promotions & Bonuses
Back to articles