Back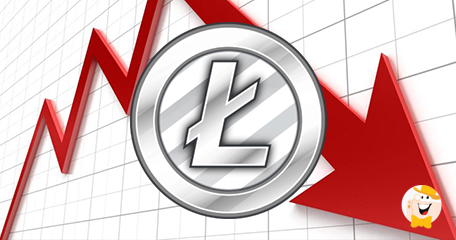 The world's sixth largest cryptocurrency, Litecoin, has hit the lowest levels since December 8th 2017. Its once praiseworthy value slipped to a pocket-sized $97.04, reflecting a staggering 74% decline in 6 months! The asset's all-time-high at $379 was last seen in December, but statistics have shown that LTC lost more than 60 percent in financial worth since the beginning of this year. Charlie Lee, creator of the cryptocurrency has sold off all of his holdings in the meantime, and the price jumped back to $99.50 for a short period of time.
Major cryptocurrencies including Bitcoin, are showing negative trends and reports on leading exchange platforms are exhibiting even more declines. BTC fell to two-week lows near $6,431 on Wednesday, whereas BCH barely amounts to $843. Price decline has also hit EOS, a cryptocurrency token that operates as a smart contract platform for the deployment of decentralized applications. According to reports, the asset dropped by 10.33 percent in one day, whilst XRP, Ethereum and other cryptocurrencies recorded a decrease between five and eight percent on a 24-hour basis.
Interestingly enough, the total market capitalization of all cryptocurrencies dropped below $300 billion for the first time since April 12. The world's largest digital asset has also lost integrity and continues to drop from January 2018. The charts have registered a decrease of more than $280 in a span of just two hours and if the trend persists, the next major support will come at $6,000.
Exactly who or what is causing deliberate destruction of crypto assets is not known, but ever since three major Internet giants banned crypto ads, the market has turned into a trading disaster. Add some conspiracy theories such as engineering and massive wrong use of Bitcoin and there you have it. Apparently, the largest BTC farm in China is responsible for damaging the asset's value and Iceland is also looking to increase its mining capacities…
What's your opinion?
Source:
"$97: Litecoin Price Hits Fresh 2018 Low", coindesk.com, June 13th, 2018.
"Litecoin, has hit the lowest levels since December 8th 2017"
Bitcoin
Back to articles