Back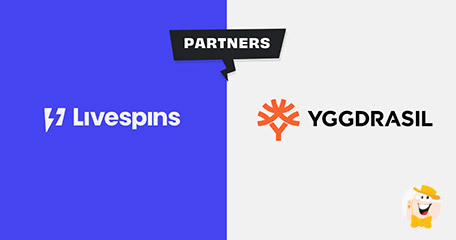 Forward-Thinking Streamers Expand Network of Partners
Determined to deliver leveled up online casino experience, Livespins keeps joining forces with the most renowned names in the iGaming industry. This time, the streaming platform aligned with Yggdrasil Gaming, a number one content provider famous for its feature-filled games.
Near the end of March, this streaming gang penned a deal with iSoftBet, while January was marked with Fantasma Games agreement. Aside from providing top-notch shows, Livespins allows players to bet behind and engage with the community, which altogether results in an authentic experience.
Knowing that Yggdrasil delivers multiple enticing titles on a monthly basis, players will have a constant influx of feature-filled and visually impressive content to choose from. Rise of the Valkyrie, Achilles, Vikings Go to Valhalla, and Bananaz 10K Wayz are just some of the most recently added titles.
Milestone Moment
Following the partnership announcement, Yggdrasil Gaming's best-in-class portfolio of online slots will be played by Livespins' network of superstar slot streamers.
As Michael Pedersen, CCO at Livespins noted, Yggdrasil is the "studio that knows exactly how to get player pulses racing". That's why this partnership represents an excellent achievement for the streaming platform and is bound to bring many benefits to both parties.
He added:
"That we are able to attract prestigious studios such as Yggdrasil Gaming to the Livespins platform is testament to the unique experience that we are able to deliver to players but also the opportunities we offer studios looking to leverage the huge growth that slots streaming provides."
Andrew Pegler, Commercial Operations Director at Yggdrasil Gaming, referred to the deal as a "powerful combination", which is expected to raise the profile of the provider's games even further. He believes that this cooperation will significantly expand their network of players all over the globe.
Agreements Keep Coming
In January this year, the streaming platform announced a deal with Fantasma Games to promote some of the most popular titles from the inventive developer. Flower Fortune Megaways, which allows players to climb through levels, unlock additional bonus features, and score big prizes along the way was one of the first releases presented.
Two months later, in March, the company joined forces with iSoftBet, to have the developer's suite of captivating slots played by some of the finest streamers. As far as the studio's officials noted, this cooperation is the chance to grow the brand's strength and reach multiple players in specific markets.
Vast Spectrum of Possibilities
Aside from the opportunity to choose among the list of top-class slot streamers, Livespins offers other engagement tools designed to offer a unique experience.
Punters can play together with their favorite streamer…
…and place a bet as a group, with the option to select the bet amount and number of spins they prefer. In addition to this, viewers can chat or add reactions while following the stream or betting behind, ensuring a maximally enjoyable social experience.
With all these options, providers can enhance gaming experiences with a social layer and gain market share through exposure. On the other hand, operators can exhibit their products and services in a more prominent way through social experiences, whilst improving retention and conversion.
Continuing to bring innovations, the company has recently held the first-ever Metaverse meeting, so if you are curious to catch a glimpse of the atmosphere, check this video!
Source:
"Livespins welcomes developer giant Yggdrasil Gaming to its platform", yggdrasilgaming.com, April 6, 2022.
"allows players to bet behind and engage with the community"
General Gambling News
Back to articles