Back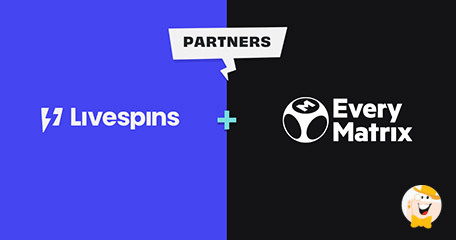 Livespins continues with its dedicated mission to socially power the online casino sector to another level after signing an agreement with major distribution and content aggregator, EveryMatrix.
The latest deal will see operators powered by EveryMatrix having a chance to integrate Livespins into their casino lobbies, enabling them to benefit from the slot streaming via a compliant solution.
Livespins is a superior and new way to experience web casino. It allows customers to follow entertaining streamers, with a chance to enter the action occurring around the reels. They can use smart bet behind to make it happen.
By using the former feature, players can enjoy a shared experience, where every player can select the preferred bet amount and how spins they want to play. You are able to engage in social interaction – something that other categories of web casino content cannot provide.
During the game, players have a good time by chatting with the streamer and others. Enjoy your time, drop some emojis or share reactions – everything is allowed. Regardless of the result of your bet, there is always room for fun, engagement, and a rewarding experience.
From the Media
Reacting to the latest deal, Michael Pedersen, Chief Commercial Officer at Livespins, says that Livespins is taking online casino lobbies by storm and this deal with EveryMatrix will support the company in launching its new platform into the mainstream by making it accessible to some of the top operators in the business.
According to his words, the worlds of casino and streaming have been intersecting for some time, and customer demand for this type of game and experience is never higher. Livespins allows companies to leverage it in a responsible and compliant way.
He added:
"This is a significant deal for us, with EveryMatrix being one of the top platform providers and aggregators in our industry. I can't think of a better way to kick off the New Year for Livespins."
Amund Stensland, CasinoEngine COO at EveryMatrix, says that operators are making huge efforts to appeal to the next generation of players. Thanks to the Livespins they have a platform that enables them to deliver an engaging, entertaining, and socially powered experience demanded by a new generation of players.
He continued:
"This is a great addition to our offering and further establishes EveryMatrix as the go-to platform provider for operators looking to stand out from the crowd."
Livespins is known for having a special mission in the industry – to socially charge the casino sector thanks to the shared experiences and a new category of gameplay.
Source:
"Livespins secures major distribution deal with EveryMatrix", europeangaming.eu, January 11, 2023.
"EveryMatrix having a chance to integrate Livespins into their casino lobbies"
General Gambling News
Back to articles