Back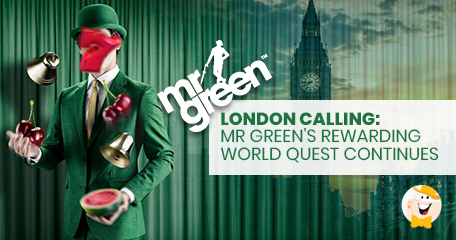 After two EXTREMELY fun and engaging global destinations and a bevvy of promotional offers that came along with it, Mr Green is about to embark on the next leg of this unique voyage and is calling everyone aboard!
Next stop? London – the UK capital and a beacon of politeness, culture and fish and chips!
There's a lot to be done in London town, but once you know that the total prize pool for the string of thematic promotions is €25,000 in cash prizes...
...well, then you a) have your absolute freedom with how you're going to spend both your money and time and b) realize why the site is one of the most beloved online casinos – and Sweden's fifth most popular brand, according to some surveys!
From "Hide" Park to Tower Bridge
The first thing to take note of is that all of the subsequent promotions last until midnight, March 12th!
Mr Green kicks the voyage off with the "Hide Park" promo – the slight misspelling of the famous Hyde park is deliberate, for the theme of this offer is hidden cash...
...total of €10,000 in cash prizes is scattered across this altered Hide Park! They come in various shapes and sizes – from €50 to €1,500, and anything in-between! They can all be triggered by any €1 spin played across the collection.
Another iconic London landmark is the gorgeous Tower Bridge. It was the source of inspiration behind the Tower Bridge Tournament that "is not for the faint of heart," as the official casino release puts it.
Taking part comes with a higher cost – wagers of €5 per spin are taken, which means there will be fewer competitors! A share of the prize pool (€10,000!) will be won and split between the top 10 players who wager the most on a collection of slots eligible for this promo!
Quintessential British Snack
There's nothing that screams Great Britain like a piping hot serving of fish and chips – the only thing that beats it is INFINITE Fish & Chips, which is what this next promotion is called.
The site's players can claim three minutes of free playtime every day (until the 12th, of course), which amounts to 21 minutes during the promo's seven-day life span.
And finally, there's Station: Moolah Arch. The top ten players that score the biggest win in Finding Mr Green and Hammer of Fortune games, using Umbrella or Hammer features, will win a share of €5,000!
And Yet...There's More!
While that pretty much concludes the site's tour of London...
...it doesn't have to mean that fun ends there, too! A couple more offers happening over there are worth our attention:
It's a Jungle Out There takes place until March 10th and celebrates the release of Gorilla Gone Wilder slot with 25 cash prizes and a €2,000 prize pool!
Sport Event Ticket Giveaway will have one lucky punter jumping out of joy once they get their hands on a travel package worth €7,000 plus tickets to the sport event of their choice!
Spring is in the Air, do not forget! The promo of the same name will take place until March 18th and for every €25 played on Exclusive Roulette or Blackjack Tables, one entry into €3,000 cash giveaway will be generated. 25 players will get to partake in the final draw.
"a beacon of politeness, culture and fish and chips!"
Promotions & Bonuses
Back to articles