Back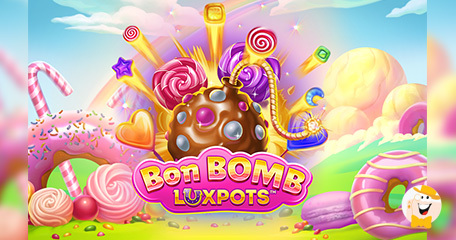 Candy-Themed Slot from June is a Major Shot of Sugar for the Summer
There is one more game we would like to bring to your attention. It was released approximately one and a half months ago by an up-and-coming developer, known primarily for Divine Links and Loki: Lord of Mischief.
If you recognized Lucksome as the creator of these astonishing titles, you're already more into gaming than you'll ever know. This young developer is now able to give players a serious sugar rush in its latest offering, named Bon Bomb Luxpots, so prepare yourself for a candy-themed adventure full of delicious prizes!
Luxpots Ladder, Multipliers and Bonus Spins
In case you still haven't seen Bon Bomb Luxpots from Lucksome (launched on 11 June) let's just say there are some flavorsome prizes you don't want to skip. Thanks to the combination of Luxpots Ladder with Megaways reels, players are in for a rollercoaster of sweetness, including complimentary spins that are equipped with Locking Bombs and Luxpots Multipliers on the side.
To activate the Luxpots Prize Ladder, you must land three or more Candy Bombs simultaneously. This configuration gives players the chance to win up to 5,000x their bet in the base game while hitting 25,000x their bet is the ultimate prize during complimentary spins.
If you see four Ice Cream Scatters lining up on the reels on a single spin, get ready for extra games. In this stage, Candy Bombs lock and drop until no more explosive stuff is available. However, more bombs will bring you a prize from the Luxpots Prize Ladder.
According to the supplier, those with a sweet tooth will have to keep an eye out for the Candy Bombs that land with multipliers attached. These boosters multiply the entire Luxpots prize ladder, adding any win on a successful Candy Bomb to the balance.
To make its candy-themed slot from June even sweeter, Lucksome included Bonus Buy for players in certain jurisdictions, allowing them to buy access straight into the bonus. They can choose from one of three modes:
Delux – A standard bonus buy option
X-plosive – Better option due to the high volatility mini games and an attractive price
New Innovation: DoubleLux – A bonus second chance if the win is x60 bet or below
On a final note, Bon Bomb Luxpots comes with two RTP values, ranging between 94.5% and 96.2% while the game itself sits at the mid to high end of the volatility scale.
A Major Shot of Sugar
Commenting on the latest game from its team, Josefin Uppeke, head of creative and game designer at Lucksome, said that Bon Bomb Luxpots is a sweet treat for all confectionery enthusiasts. The studio is proud of its jawbreaking take on the popular candy theme, as it provides a major shot of sugar thanks to the Luxpots Ladder.
"We also know that players often want to jump straight to the bonus action, which is why they have this option to buy into the Free Games in the markets where it is permitted," explained Uppeke.
As stated by Bryan Upton, founder and director at Lucksome, the latest game is a really delicious addition to portfolios of partner casino sites, and the entire team looks forward to seeing players unwrap some potentially large wins over the summer.
Source:
"New game announcement – Bon Bomb Luxpots™", lucksomegaming.com, June 11th, 2022.
"players are in for a rollercoaster of sweetness"
Casino Games
Back to articles