Back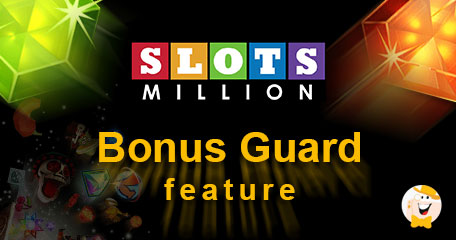 Gamblers are well aware how tricky bonus play can be - there are many little things we need to keep an eye on if we're to have a smooth, trouble-free experience and cash out without problems. Casinos have regulations we must comply with in order to reap the benefits, but sometimes we fail to read these rules carefully, misinterpret a passage or simply forget about them altogether in a rush to claim some generous incentive. Mistakes happen, we are only humans after all, and can't always be acutely aware of every single detail. That's why Slots Million's safeguard features should cheer us up and rekindle our trust in online casinos.
Gone are the days when you had to ask: ''Why were my bonus winnings voided? I didn't breach the terms on purpose, it was a misunderstanding.'' At least when Slots Million is concerned, you can enjoy their bonuses all you like without worrying. Amazing features have been incorporated to counter player mistakes and issues resulting from terms and conditions breach. Let's see all the juicy tidbits and how they affect our bonus play:
Bonus Guard - MaxBet Feature
Bonuses come with wagering requirements that often include a set limitation on how much you can bet per line/spin while a bonus is active. Going over this threshold is against the rules and does not count towards wagering completion. Betting higher than the limit may also get your winnings voided, account suspended or worse.
Thanks to MaxBet Feature, Slots Million customers are not in danger of surpassing these limits unintentionally. If you try to bet higher, a pop-up will show up on your screen notifying you that the limit has been exceeded. It's a built-in property which activates on it's own as needed, leaving you free to enjoy the gameplay.
Restricted Games
Often time a bonus info is incomplete, prompting many of us to contact customer support and inquire about the allowed games. It is a hassle for both players and casinos, one that you won't have to deal with at Slots Million.
Each slot comes with a notice describing whether the game can be played with bonus money or not. The warning is there even before the game starts, so that there is no confusion on the matter. If a certain slot is meant for real money play only, bonus funds will not show in the balance.
What's more, players will be notified about the exact amount of allocated bonus funds, as well as the amount of real money available.
Check out the video below for a visual cue on these marvelous features. It shows how it all looks in action on a few exemplary slots. ''To value our players and make them feel like a million bucks'' is the motto of Slots Million. Do we feel appreciated? We sure do!
"rekindle our trust in online casinos"
General Gambling News
Back to articles