Back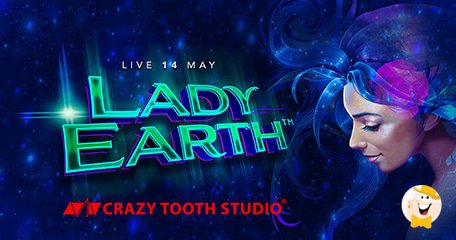 We've all been with her, part of her, whatever you like it- but, how many of us have got the opportunity to truly meet her? To get to know her deepest secrets?
No one. And no one will ever, because SHE is none other than the marvelous and magnificent, one and only Lady Earth™. Get ready to witness her elemental power in a story told by one of the most creative developers that is not afraid to explore, Crazy Tooth Studio.
How Well Do We Know Our Planet?
When one dares to seek inspiration in the third rock from the Sun, which is at the same time so familiar to all of us, yet filled with many mysteries, one is nothing else but brave and adventurous.
These two virtues…
…are just some of the compliments the team behind Lady Earth slot deserves. Stunning graphics, victorious soundtrack, and energetic gameplay of this slot will have all types of punters searching the stars for cosmic wins.
Equipped with RESPIN INSANITY™, it enables every winning spin to re-spin and opens a chance for a win of galactic proportions. The more symbols are matched, the bigger the insanity- and consequently the winnings.
When the Lady Earth™ Bonus is triggered…
…punters can travel across the stars to experience a truly dynamic pick bonus – with auto select included. The medium variance slot with 51 lines will be available starting May 14.
Take a look at the official trailer from CTS and hit some comments below to let us know how you liked this work of art!
Redefining Quality
Simple yet meaningful, the philosophy of Crazy Tooth boils down to "Quality Always Wins," and they certainly manage to deliver it with each new game.
Continuously pushing the limits…
…the team produces unique slots, all visually astounding and crowded with awesome features. Diamond Force, for example, comes with Team-Up Feature and Team-Up Bonus Spins and follows the story of four superheroes.
Queen of the Crystal Rays, a fantasy-themed six by four digital one-armed bandit features Any Adjacent Wins™, up to 50 lines and numerous interesting features that enable massive wins.
One of the most important milestones…
…the studio has achieved so far is a strategic partnership with gaming giant Microgaming. Becoming a part of its rapidly growing roster of independent brands, CTS brought plenty of refreshing energy to its catalog.
The successful deal was crowned with Arctic Valor, impressively designed video slot with a whopping amount of 4,096 paylines. All wrapped up in frost and chill, it depicts semi-divine female figures from Norse mythology.
Source:
"Lady Earth™", crazytoothstudio.com
"the marvelous and magnificent, one and only Lady Earth™"
Casino Games
Back to articles