Back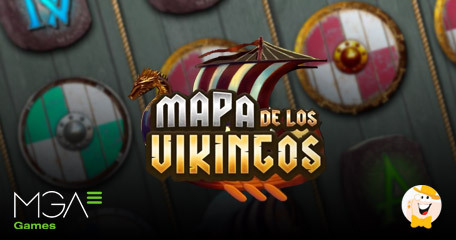 MGA Games is back as a leading provider of innovative online casino games to unveil its latest creation, Mapa de los Vikingos.
The company's thrilling adventure in July will take players on a journey through the legendary lands of the Vikings, promising a treasure trove of excitement and rewards.
Riches of the Nordic Regions
In Mapa de los Vikingos (Vikings Map), players will embark on a quest to explore the Nordic regions, braving the vast ocean in search of the bountiful riches hidden within the game's five reels.
With stunning graphics and immersive gameplay, this new premium installment by MGA Games is set to captivate players from the very first spin.
As they navigate their way through the treacherous waters, players will encounter a variety of symbols that perfectly capture the Viking theme.
From navigation maps to chests and beer tankards, these meticulously designed symbols complete the overall gaming experience, immersing players in the world of popularized Norse mythology.
One of the standout features of Vikings Map is the complimentary spins screen, where players can engage in exhilarating battles in their quest for victory. This exciting feature adds an extra layer of excitement and interactivity to the gameplay, allowing players to truly feel like fearless Viking warriors fighting for their share of the spoils.
As a reminder, MGA Games released Yohanna Alonso Viking's Conquest back in June 2021, marking the beginning of an epic series filled with thrilling battles, daring quests, and immersive storytelling.
With a grid of 5 reels, Mapa de los Vikingos offers a range of betting options to suit different players' preferences. The minimum bet is set at a reasonable €0.30, ensuring accessibility for all players, while the maximum bet reaches €6.00 for those seeking higher stakes and bigger thrills.
The game's medium volatility ensures a balanced experience, providing both frequent wins and the potential for substantial payouts.
For players dreaming of massive rewards, Mapa de los Vikingos offers a maximum prize of €14,985.00. This tantalizing jackpot provides an additional incentive to embark on this epic Viking adventure and seize the opportunity to claim significant winnings.
Available from July 10th
From July 10th, Mapa de los Vikingos will be available to all operators on the MGA Games platform, ensuring that players from around the world can set sail on this captivating voyage.
Therefore, prepare to unleash your inner Viking and set sail with MGA Games' latest release in July 2023.
With its immersive gameplay, stunning visuals, and the chance to claim massive rewards, this new adventure is set to become a favorite among players seeking excitement and riches in the vast lands of the Norse warriors.
Source:
"Mapa de los Vikingos", mga.games, July 10th, 2023.
"players will embark on a quest to explore the Nordic regions"
Casino Games
Back to articles