Back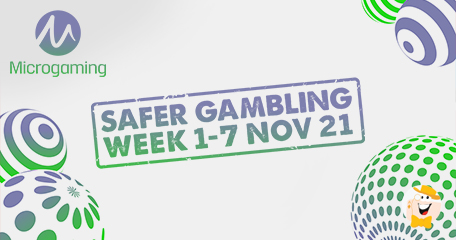 Microgaming has just decided to enhance its commitment to a responsible gambling strategy. The company continues to promote safer gambling and fair play while supporting new charities in 2021.
Microgaming celebrates the Safer Gambling Week 2021 together with other leaders in the industry. In light of the festivities, the provider continues to support new charities in their efforts to minimize and hinder gambling-related harm.
The provider of cutting-edge casino software has just enhanced its Microgaming PlayItForward corporate social responsibility program by signing a deal with Betknowmore UK. The former is a leading supplier of gambling support and training services. The UK company is focused on research and has also received a donation to conduct a year-long trial for peer-led group therapy for women.
Other Activities from the Company
Microgaming is committed to providing funds to other organizations with the same mission. The company has backed the Gordon Moody Association, which provides a selection of treatment and therapy services for people with gambling issues, as well as support to the families affected by their gambling.
Microgaming has also assisted the brand from Isle of Man, Motiv8 IOM, which delivers addiction treatment and educational services to the Manx community. The company has sponsored its gaming and gambling project created for young people.
Microgaming has also supported different digital projects, such as promotional costs for a social campaign for GamCare's National Helpline. It also provided funds to mental health charity the Beacon Counselling Trust, which organizes educational programs and free counseling to individuals with gambling-related issues. It also backed Young Gamers and Gamblers Education Trust (YGAM) with funds for educational videos.
Speaking on the new decision, Founder and CEO at Betknowmore UK, Frankie Graham said:
"The collaboration between Microgaming PlayItForward and Betknowmore UK has enabled the development and delivery of new research and support activities that address the theme of women and gambling harms. It is an under-resourced area and, quite rightly, now the recipient of increased investment."
CEO at Microgaming, John Coleman notes that the company is proudly standing in solidarity with all scopes of its industry to back the Safer Gambling Week initiative. It is followed by different events to foster the Responsible Gambling message across the business. According to his words, it's a conversation the industry should be having all year round and one which the company is committed to being a part of. He is proud that the company has been able to support the work of the gambling-related research, education, and treatment charities during 2021.
Source:
"Microgaming extends support for Responsible Gambling organizations throughout 2021", microgaming.co.uk, November 3, 2021.
"The company continues to promote safer gambling and fair play"
General Gambling News
Back to articles