Back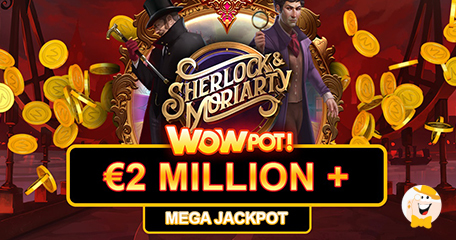 Microgaming's WowPot progressive jackpot has been hit twice in a week - the second time around it awarded over EUR 2 million Mega win in a Sherlock & Moriarty WowPot.
Belgian player hit the jackpot of EUR 2,025,388.75 at Napoleon Sports & Casino Online on April 19th. Five days before that, WowPot Jackpot awarded a EUR 17.5 million win in the first-ever payout.
A Winning Streak
This seven-figure win is the biggest yet on the Sherlock & Moriarty WowPot game which was released in March 2021. It is also the second-largest win on WowPot network since its launch in February 2020.
The prize will be awarded in one installment - as a lump sum - which is a norm for Microgaming's progressive jackpot network.
Sherlock & Moriarty WowPot is the fifth Microgaming WowPot jackpot, created by the brand's partner studio, Just For The Win.
The game takes players to London in Victorian era in which they meet the world's most famous gumshoe detective. The atmospheric five-reel progressive slot has a bunch of great features and a massive winning potential.
Congratulations All Around
The game has had a very exciting opening day because it awarded a EUR 440,481.82 win in its first day of release. It has since awarded over $3.5 million in jackpots.
Six slots featuring a diverse range of game worlds now feed into WowPot's progressive prize pool, which has once again reset to its impressive €2 million starting seed, while Microgaming's iconic Mega Moolah jackpot continues to lead as the industry's largest jackpot†, currently climbing towards €18.5 million.
Microgaming's CEO, John Coleman, remarked on this event:
"Remarkable to see a second hit on WowPot just days after the first! Sherlock & Moriarty is a beautifully crafted game by Just For The Win, and even though it launched network-wide less than a month ago, it has already awarded more than 58,000 wins across all jackpot tiers. My congratulations go to Napoleon and their player on this brilliant win."
Napoleon Sports & Casino Online's CEO, Tim De Borle, added that their "lucky player is on cloud nine and so is the casino's staff." He said that jackpot games are an important and exciting asset in their portfolio, and they are delighted to have a great partner like Microgaming who provides these games.
Source:
"Double wow! Microgaming's WowPot jackpot strikes again", Microgaming PR, April 23rd, 2021.
"WowPot progressive jackpot has been hit twice in a week"
General Gambling News
Back to articles