Back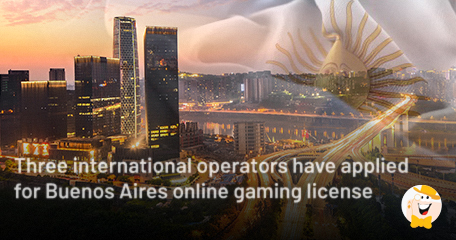 Argentina's capital province of Buenos Aires is readying its own online gambling market and so far it is shaping up rather nicely as three top-tier operators have applied for this vertical's license.
The three international companies in question are Bet365, Betway and Codere LatAm which is the South American subsidiary of the Madrid-headquartered business. All three of them have already penned cooperation agreements with local Argentinian operators besides applying for a license.
Just Before the Deadline
The capital of Argentina embarked on an iGaming regulation journey last year...
...having passed the legislative piece that was included in the 2019 budget for this region in December. According to the legislation, the province's government will be using taxation revenue to fund various social programs. Operators who manage to acquire the license can use them for 15 years before renewing them.
In early April, Buenos Aires Governor, Maria Eugenia Vidal, signed a regulatory decree that officially recognizes online gambling for the first time in history.
The deadline for license application is June 25th...
...which is the day until which interested operators – of whom there are ten remaining – can compete for region's total of seven iGaming licenses.
Finding Their Spot
Bet365 has already found their partner in the province: the Hillside subsidiary has teamed up with bingo hall operator, Pasteko. Betway has signed an agreement with Bingo King, while Codere LatAm will cooperate with slot and bingo hall operator, Iberargen.
The majority of ten operators still in contention are joint initiatives between local partners (all conducting bingo) and international operators. Among possible licensees are William Hill, who has found a partner in ArgenBingo, The Stars Group (Atlantica de Juegos) and Flutter Entertainment (Bingo Pilar).
There's also Intralot who, if licensed, will form an alliance with BinBaires and Playtech, who has paired with Hotel Casino Tandil. Biyemas and Slots Machines SA are the two local operators who are adamant they would try to go on their own.
The Conditions
Those who get licensed will obtain a 15-year license that will cost $1.4 million...
...and will be, according to local laws, permitted to offer casino games such as slots, poker and betting on horse racing as well as sports betting. The legislation has determined a 25% tax on gross revenue for online gambling.
The regulatory body which will keep watchful eyes over the market is Buenos Aires Provincial Institute of Lottery and Casinos.
Source:
"Three more operators join race for Buenos Aires licenses", igamingbusiness.com, June 7, 2019.
"can use them for 15 years before renewing them"
Gambling Law & Society News
Back to articles