Back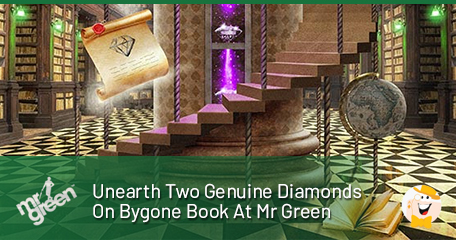 One might think from time to time that certain casinos are pushing it too far when launching innovative promotions and complimentary bonuses, but not Mr Green. As you know, the operator is still celebrating its 10 Year Anniversary and this time, we believe, it clearly exceeds everyone's wildest expectations.
It is widely known that diamonds are a girl's best friend, but this doesn't mean that gentlemen can't wear them. In other words, by participating in this week's trendsetting promotion, all players will be given a unique chance to win 2 real diamonds worth €7,000 each! As impressive as it may sound, the operator is truly giving away a duo of precious gems to players who immediately engage in the 'bygone book' selection. Want to learn more?
A Bullionaire Is So Overrated
For those who are on the constant lookout for Mr Green's incredible all year-long deals, it might be interesting to know that a relatively recent promo, The Golden Touch, went quite lucrative for someone, as winning a gold ingot is not everyday news.
However, since winning gold bullions is in the past, the timing is now perfect to focus on fetching a more "elegant" prize… the one with some shining effects. To partake in this phenomenal ballyhoo, play the 'bygone book' collection…
… but don't forget that every €40 played across the qualifying games activates 30 seconds of unlimited extra spins. Each player can unlock up to 3 minutes of unlimited spins per day.
Sportsbook Specials
Never miss good sports action again, thanks to Mr Green's captivating promotions in the popular vertical, and join the Free Bet Derby Fever for a chance to win a complimentary €10 bet! The only requirement is to place a pre-match wager on "Derby of the Week" and if the outcome is 0-0, the operator will award you with an exclusive €10 bet.
Moreover, the excitement continues with a Real Free Bet Advantage, meaning that players can win an additional €10 bet for every 4th wager placed on the US Open! Are you ready to show off your best serve?
"the operator is still celebrating its 10 Year Anniversary"
Promotions & Bonuses
Back to articles