Back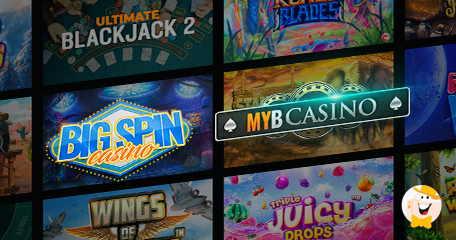 Heavy Penalties for Slow Responsiveness and Lack of Transparency Lifted After 2.5 Years
After having spent 2.5 long years in the shadows of our online gaming community, MYB Casino and BigSpin Casino have finally been placed on probation.
The reason for getting rogue status and being placed on our warning list is related to lack of responsiveness and will to improve transparency with the players. To rebuild their reputation, both brands are now working hard, and there is even a new casino rep, TJ, who has been assigned to our forum in case you have any inquiry, complaint or simply want to ask a question.
Better Procedure for Player Complaints
The new casino rep from WebPartners has decidedly reached out to our account managers to do some explaining in every respect and seemed very reliable and honest in his intentions regarding the whole situation from the past.
TJ elaborated about the past events and mentioned that his team now has a better procedure on how to be proactive with player complaints and not just ghost the forum thread without any real resolving of player-related issues.
Here's one part of his statement regarding the events at MYB Casino with a player who was allegedly affiliated in a fraud ring:
"We are forever disjointed here where security doesn't want to share certain details publicly as an investigation is ongoing and/or they basically want the culprit to call in and talk with them... so they can have a private conversation. Casino team and us are limited to how we can reply."
According to TJ, online casinos get into awkward situations from time to time because their security team doesn't want to disclose info publicly. This approach may be old school but it's how "Security" deals with issues away from a public forum for obvious reasons.
He pointed out the fact that if some players don't like what they hear, they simply "blast off". The troubling player, whose name we will not mention in this article, was supposedly linked to several accounts and there was a very odd connection to two countries at the same time, meaning that he would toggle in and out of VPN while being logged in, revealed TJ.
Reps are supposed to always make themselves and their teams accountable to answer any inquiries. However, the details can sometimes only be shared with the affiliate (LCB) but not the player.
TJ is asking all future players to contact the site if a problem persists and should some players have difficulties calling a North American toll free number due to different time zones, setting up a time to be called back by the casino is the best way to start.
What's New at MYB and BigSpin?
In case we need to refresh your memory, let us mention a couple of advantages when playing at MYB and BigSpin.
First of all, each platform prides itself on offering fair games by leading software providers (Betsoft, ViG, Nucleus, Concept Gaming, Proprietary, and DGS). They provide secure and confidential services, such as NON-STOP customer support, bonuses and promotions to spare, as well as cryptocurrency banking options.
Every single detail on these gaming sites is optimized for mobile devices too, in the event you want to enjoy the trill of the ride on foot!
Aside from 3D, video, classic and progressive slots, players can expect a host of poker variants, table games and fluffy scratchcards, while claiming a sign-up bonus or any other lucrative incentive is guaranteed right after registering.
Ask the rep what you need to know but proceed with caution, at least, until both brands are free from any compromising statutes and labels.
"Players want what they want and put brands on blast if they don't get it"
LCB News
Casino Warnings & Rogue Reports
Back to articles