Back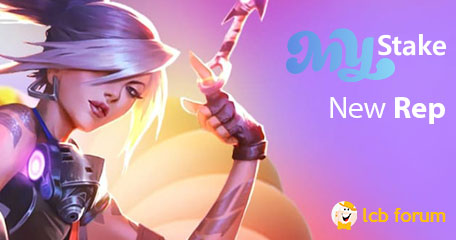 Every now and then, an online casino is so lucky to hit not a single but a double stroke of luck. That is the case with MyStake Casino which simultaneously joined LCB's Member Rewards AND Direct Casino Support Forum.
That effectively means that our members can claim a $3 LCB Chip for spending in our Shop simply for signing up with the casino, and, that they get to enjoy first-class, VIP-level support through a rep dedicated only to our members.
Direct Casino Support
As said, the MyStake representative has signed in on our forum where he will join the legion of other Direct Casino Support representatives.
His duties will be answering our forum members' only regarding their experience playing at MyStake Casino.
This is the forum thread where our members can post their questions, concerns and queries regarding any issue they may have while playing there. The rep has already chimed in with a brief introductory message:
"Greetings, dear players!
My name is George and I'm a representative of MyStake at LCB.
This thread is dedicated to MyStake Casino. I'll try to respond to all of your inquiries."
If they prefer, our members can contact the rep via direct messaging.
Member Rewards
MyStake Casino has also joined Member Rewards, LCB's longstanding scheme that awards our members with a $3 chip for signing up with and depositing at new casinos.
Member Rewards houses numerous online casinos under its roof which are all the hubs where our members can register, deposit, and play to claim this cool prize and spend it in our Shop!
You can find all the necessary information on Member Rewards and how it functions on this page!
The operator is Curacao-licensed and accepts multiple cryptocurrencies. Over 100 software developers supply the gaming library in this casino which comes with several welcome bonus options.
You can read our entire review of the casino on this page!
Are you already a member? What are your experiences like? Let us know in the comments!


"MyStake Casino has joined LCB's Member Rewards AND Direct Casino Support Forum."
LCB News
Back to articles