Back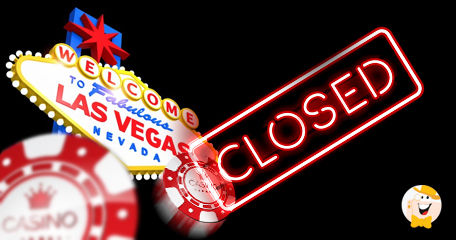 The state of Nevada has ordered the closure of all of its casino facilities. The ban came into force on Tuesday, March 18 in an effort to help prevent the further spread of Covid-19.
About Shutdown
Nevada governor Steve Sisolak organized a conference where he announced harsh measures for gambling operators. The closure will last 30 days and affect all casinos and 'nonessential businesses', including restaurants and bars. However, gas stations, pharmacies, banks, and grocery stores will be allowed to remain open. Schools and state offices were already closed earlier.
The governor stated that all gaming operations must halt starting from midnight on March 18. Reacting on the question, whether non-casino gaming machines might be permitted to continue operation, he said:
"Stop looking for a loophole. Every gaming device across the state must cease operations by midnight Tuesday."
Additional Steps
Nevada will reconsider its current decision after the first 30 days to decide on the possible continuance of the restriction. The governor believes that his reactions are appropriate and informed because the treatment for Covid-19 doesn't exist.
At the moment, Nevada takes advantage of 450k casino related jobs while tourism accounts for almost 40% of the state's general fund. Sisolak added:
"If your business brings groups of people together, it should not be open. This is not the time for casinos to remain open."
Other Venues
Leading Nevada operators including Las Vegas Sands shut down its Strip venues, with MGM Resorts and Wynn Resorts following suit. At the same time, Caesars Entertainment and Station Casinos chose to keep their doors open, while introducing social distancing requirements and conducting regular cleaning of all slot machines.
According to the official information, there are 109 coronavirus cases in Nevada and the first death occurred this past Monday.
Following the precautionary measures, local media were required to keep a six-foot distance between cameras. Meanwhile, some states, like New Jersey and Pennsylvania, will have the opportunity to compensate losses with online gambling chances.
Most operators have already requested a federal bailout from the state, to help in overcoming the problems with Covid-19. One of the examples is the National Indian Gaming Association (NIGA) which asked for $18b to support communities in dealing with the losses from its primary source of revenues.
Source:
"Nevada guv orders 30-day shutdown of all casinos", Steven Stradbrooke, calvinayre.com, March 18, 2020.
"The ban came into force on Tuesday, March 18"
General Gambling News
Back to articles