Back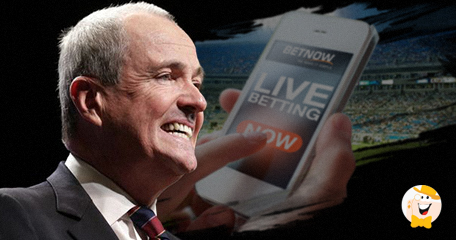 New Jersey is going to be at the center of sports wagering attention, as a very significant event is going to be held in the state. Governor, Phil Murphy, shall make a keynote address at the Betting on Sports America conference, the event set to take place from 23rd-25th of April…
…which is going to be the biggest one in the US relating to sports wagering trade!
It's All Thanks To NJ
The fact that Murphy himself will be part of an event of such vital importance for the industry absolutely makes sense. New Jersey and its thriving scene played a significant role in…
…bringing the subject of regulated sports wagering on to the statute books.
Murphy himself comments:
"It's my pleasure to address delegates from the international sports betting industry who will join us here in New Jersey for the inaugural Betting on Sports America conference.
We are immensely proud of an integral part that New Jersey played in taking down PASPA and in doing so laying the solid foundations for legal sports wagering to be enjoyed by Americans across the nation."
He also said that he sincerely hopes that other states will follow this as an example of positive experience and use it as a motivation to bring the subject of sports wagering legalization to reality.
All Eyes On Gov
Murphy played an almost life-changing role by regulating sports betting in his own state. His decision to sign the regulation set in motion a completely new era for the Garden State's casinos and racetracks. This move made it possible for them to …
…bring more customers, more operating partners and, as a result, boost their long-term financial prospects.
Murphy is an avid soccer fan. As a matter of fact, he was the first one to place that historic first legal sports wager at Oceanport's Monmouth Park racetrack. He placed bets of $20 on Devils to win Lord Stanley's Cup and…
…$20 on Germany to win the 2018FIFA World Cup.
Crème De La Crème Of The Industry
This event of groundbreaking importance will boast 175 speakers, global leaders, and innovators from the industry. There will be 40 sessions as well as 60 exhibitors displaying their latest products, with the idea to widen the range of business and networking opportunities.
SBC CEO, Rasmus Sojmark, is more than proud that the Governor will be "the main star" of this huge event. As he comments:
"We are delighted to have someone with the huge political standing and stature of Phil Murphy join us for what will be an unmissable event. The Governor will play a fundamental part in shaping and delivering legal sports wagering for New Jersey and we're looking forward with high anticipation to his keynote address at Betting on Sports America."
Source:
"New Jersey Governor Murphy to Deliver Keynote Address at Betting on Sports America Conference", prnewswire.com, March 25, 2019.
"the event set to take place from 23rd-25th of April"
General Gambling News
Back to articles