Back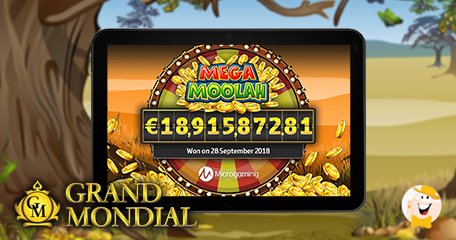 Come on, baby, mama needs a new pair of shoes! Wait, scratch that - mama needs a new pair of everything. And for €18,915,872.81, you can buy a LOT of shoes, plus whatever else you want, and still have surplus cash to last a lifetime or two! 'Cause when a jackpot this big hits, it's official: you just had yourself every gambler's wildest dream come true - to be an overnight millionaire!
Unless you've been living under a rock these past few months, you know there was a HUGE progressive jackpot win on September 28th, 2018. In fact...
...it was the largest slot machine payout ever! Officially confirmed as the new Guinness World Record, the progressive prize hit on.... you've guessed it, none other than Microgaming's Mega Moolah slot. Previous world record was slightly smaller, but still impressive amount that added to a cumulative payout of over €900 million for this legendary game.
Did you know Microgaming jackpots are paid in FULL - one lump sum? No joke!
Grand Mondial Casino
We still don't know who the lucky winner is, but at least now we know WHERE this once-in-a-lifetime, historic event took place - Grand Mondial Casino! They had the honour to conjure up the sixth Casino Rewards Mega Moolah winner so far!
Here's what Renée, affiliate manager for Casino Rewards - the affiliate program of Grand Mondial Casino, has to say about the exciting occurrence:
''Coming into the office to see that one of our lucky Grand Mondial Casino players had won the Mega Moolah progressive jackpot over the weekend was just amazing. And not only did they win, but their win smashed the world record on largest jackpot payout in an online slot machine game! The unbelievably lucky player was playing on their mobile and only betting 75 cents, which just goes to show you don't have to be a high roller to hit the big wins, you just have to be in it to win it. This player joins the Casino Rewards Millionaire Club along with 5 other lucky Mega Moolah winners in the last 12 months. We couldn't be happier! ''
Well, the brand IS home to the likes of those we are so envious of, and they urge gamers ''not to waste any time. Someone has to become the next instant millionaire, and it could be you!''
Even as far back as August, we knew something big is brewing and is about to pop when the community expects it the least. Microgaming's progressive network is the largest in existence and no one was surprised when the coveted prize managed to rise all the way up and OVER the €10 million mark, however...
...we could not believe when it shot way past €12 million, and into the dream-like territory where it seriously threatened Jon Heywood's glorious €17,879,645.12 score. Ah, those mischievous slots - you never really know what's coming. But, that's what we love about them, isn't it?
"there was a HUGE progressive jackpot win"
General Gambling News
Back to articles