Back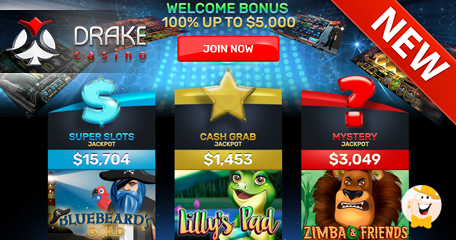 Drake Casino is providing players with a new, and improved way to play. If you're wondering what that could possibly mean, you won't have to wait long to find out. The site has gone live with a new mobile site, designed for a much easier navigational process for players. It is also pre-loaded with an impressive spread of bonuses and promotions to enjoy!
What new things are there to look forward to? For starters, the new site is equipped with sliders, which make it beyond easy to sift through a variety of gaming categories, and narrow down the particular game you've got in mind. Now, when you click on any given game, you will see a new browser open up, allowing you to begin playing the selected game instantly, with little loading time.
Compatible with most mobile browsers, the site delivers a wide variety of HTML5 games from software developer, Arrow's Edge. Users can look forward to impressive graphics, making the offerings even more attractive. Easy-to-use controls make the experience as convenient as possible.
In addition to the gaming and playback modifications, an improved cashier is also available. The site provides a number of deposit methods for players to select from, all of which are known for being speedy and easy-to-use, with withdrawal processes being particularly painless as well.
Drake Casino is further home to a rewarding loyalty program, with benefits including the opportunity to convert accumulated points for cash, bonus credits, and more.
Don't hesitate to check out the new mobile casino now!
"a new, and improved way to play"
General Gambling News
Casino Software
Back to articles