Back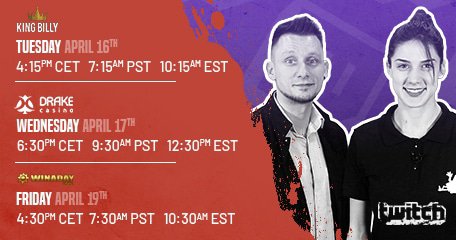 Take that list of the only things certain in life – death and taxes – and add a third one, only much less gloomy and depressing: LCB Twitch live webcasts!
That's right, after last week's Pandemonium of fun and craziness (we hope you've been there with us, it was a blast!), we went ahead and asked our doctor what he'd prescribe and he said: "More of the same"!
We'd be fools not to take heed of doctor's orders and, hence, lo and behold! - three more streams are at our doorstep!
Alex Flies Solo, Then Dunja Joins
So let's get vital things out of the way first: you know where to look for our live shows. They're right here, on our very own cozy little Twitch nook and that's where our brace of main protagonists – Dunja and Alex – will make their stand, as they have been for the past several weeks now.
The first of the three shows scheduled for this week is taking place tomorrow, Tuesday, April 16th – and it will be hosted by Alex alone and he will be playing some of the coolest new slots and timeless classics for your pleasure at 4:15 PM CET (7:15 AM PST/10:15 AM EST) at King Billy Casino!
So yes – being there, on our Twitch channel, at the time specified, will come as a great benefit to you especially if you actively participate in our chat during the stream – which, if you've been to few of our show, is just as awesome and fun-packed.
Back-to-back Twitch sessions continue on Wednesday, April 17th, at 6:30 PM CET (9:30 AM PST/12:30 PM EST) at Drake Casino and guess what – that's when Dunja (whom some of you already pronounced your queen) will be joining the parade!
The $1000 Cash LCB Twitch Contest is Still On!
To sweeten the triple deal and round off the week in some style, grab a cold one and be seated for Friday, April 19th show at 4:30 PM (7:30 AM PST/10:30 AM EST) played at our old spot, the good ole WinADay Casino!
And just in case you were wondering – yes, the $1000 real cash contest is still on!
You can join and follow our Twitch channel, tune in to live shows and stay until the very end – but it only counts if you are chatty on chat! Depending on the level of activity, you will win 5, 10 or 25 points (won if you host our video and get t least one unique view). Get as many points as you can and rank yourself on a leaderboard. This will qualify you for the $1000 prize pool giveaway at the end of April!
Finally – feel free to have your say over at our Forum, where the hosts themselves are answering any questions you may have on their own dedicated thread!
"LCB Twitch live webcasts"
LCB News
Back to articles