Back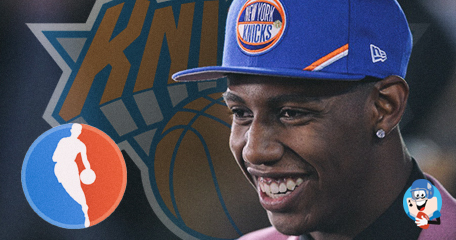 On Thursday, June 20th, 2019 the 2019 NBA Draft was held at the Barclays Center in Brooklyn, New York. The first overall draft selection went to the New Orleans Pelicans who obviously picked the superstar power forward from Duke University, Zion Williamson. The second pick went to the Memphis Grizzlies who chose the athletic and explosive point guard, Ja Morant, from Murray State University.
With the third overall draft pick, the Knicks selected the high-powered scoring machine from Duke University, RJ Barrett. These were the draft results most experts predicted. The NY team as well as Barrett were both extremely excited for the opportunity to work together in hopes of turning around the state's struggling basketball franchise.
The Knicks did not have a lot of talented veteran players, if any, on their team prior to the start of the 2019 – 2020 NBA season. They may try to pick up some better players through a free agency, but their plans to try and sign Kyrie Irving and Kevin Durant do not seem to have any potential. Irving is seeming to trend towards signing with the Brooklyn Nets. Durant tore his Achilles during the NBA Finals a couple weeks ago, and he will most likely stay with the Golden State Warriors this upcoming season while rehabbing his injury.
It did not take long for the notorious NY sports media outlets to start grilling the young new addition to the team. Below is the first exchange that can be seen between the young basketball player, RJ Barrett and the New York Media.
Media Statements:
"After receiving his first question at his introductory news conference – 'Are your shoulders big enough to carry this franchise?' -- Barrett seemed confused by the query."
"I haven't even played a game yet," Barrett stated, "so why are you going to ask me a question like that?"
"It kind of feels better, to be honest. I'm really happy to be here," he continued.
"I think it's important for people to understand how much time we spent with RJ," says Steve Mills, the Knick's President. "We saw him in Chicago, had a chance to meet with his dad. ... He came and spent 2½ days with us. We took him out to dinner twice, he came to my apartment and we watched the NBA Finals together. ... We spent a lot of time getting to know each other and understanding that he had the things we were looking for, and I think we had the things he was looking for.
"We spent a lot of time getting to know each other. We knew who he was as a basketball player, but we wanted to get to know who he was as a person, and a competitor. That was important for us."
"I think we're asking them to continue to be patient," Mills explained. "We laid out a plan when [general manager] Scott [Perry] came on board and then David joined us, that we were going to build this team the right way.
"We were going to draft well and be diligent about how we build this team, and not take any shortcuts and follow a path, and we believe these two guys are part of that process. The young guys we added over the last two years, the draft picks we've acquired, and adding good, quality basketball players that compete, is important."
Gambling Law & Society News
Back to articles