Back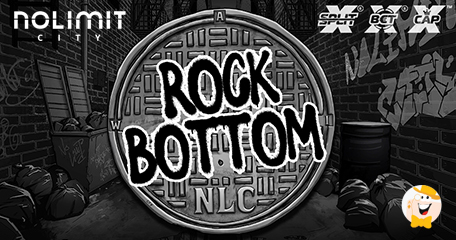 Nolimit City is Back with a Frenetic Voyage Deep Into the Darkness of Rock Bottom
If you're still recovering from the shockingly dark and twisted release by Nolimit City, called Serial, make ready to expect the unexpected it the studio's latest sinister slot, Rock Bottom.
It will let you voyage deep into the darkest alleyways and shadiest streets, but only if you dare making another step into the eccentric series of hit slots such as Road Rage and The Rave!
xCap with Max Win of 19,690x Makes Debut
As the title suggests, Rock Bottom continues the studio's dark franchise of slots by featuring a gloomy storyline packed with a stunning art style resembling a noir film.
There are also splashes of color that emphasize the corrupt new universe of similar titles like Serial from this month and Karen Maneater from May.
The creepy story of Rock Bottom is accompanied by a chaotic soundtrack composed by Nolimit City itself, leaving nothing on the table and making players tremble on the edge of their seat as they await to see what they'll encounter next.
As they find themselves spinning the studio's latest fear-inspiring slot, players will have to stay focused in the middle of a dodgy alleyway with the well-established 3-4-4-4-3 reel setup.
Thanks to the provider's iconic xMechanics such as xSplit and xBet, there is a truly staggering chance to make some extraordinary wins here. This is the first title with a brand new tool xCap, as it makes debut in Rock Bottom.
To clarify, xCap provides a new and exhilarating way to multiply winnings. It is activated after reaching 1969x the base bet but it also increases the potential of hitting the max win.
The game is at its highest during the bonus modes, which work on a fast-paced 5-stage progression, as explained by the studio. Such a thrilling approach will keep players on their toes as symbol multipliers grow and create the possibility of immense payouts.
Rock Bottom is based on a high volatility math model. There are 5 stages in the bonus with a maximum payout of 19,690 times the base bet.
Per Lindheimer, product owner at Nolimit City, commented:
"They say after hitting Rock Bottom, the only way is up. We here at Nolimit say it can get worse, much worse!This is a frenetic and highly volatile slot that will no doubt have you doubting your own eyes. Rock Bottom is a shameless Nolimit City release... This world doesn't take nicely to strangers - so tread carefully."
Take a look at the trailer below before playing. Rock Bottom will be available on all Nolimit City partners from November 22.
See the video here.
The Year of xMechanics
This year alone, Evolution's latest acquired software provider, Nolimit City, has created a record number of mechanics to enhance the quality of gameplay and slots in general.
In September we saw the xCluster that increases multiplier by +1, while earlier we had a chance to see xBizarre and xMount.
We now await the last release for 2022 by the studio and hope it will blow us away in time for the upcoming holidays.
Stay tuned!
Source:
"Expect the Unexpected with Nolimit City's Latest Release, Rock Bottom", nolimitcity.com, November 22nd, 2022.
"a gloomy storyline packed with a stunning art style"
Casino Games
Back to articles