Back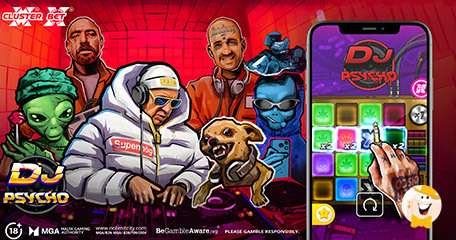 In a stunning departure from their recent plunge into the dark side with 'True Kult', Nolimit City is gearing up to throw the ultimate party with their latest release.
Renowned for their innovative Cluster games such as 'The Border' and 'Pearl Harbor', Nolimit is back with a bang, infusing their distinctive sense for chaos into the mix.
Break, Bite, Drop
Breaking barriers in the realm of slot games, 'DJ Psycho' offers players an unprecedented experience. The game invites any partygoer to step into the unhinged world of DJing and gaze down at his turntable equipment.
This novel perspective not only captures players' attention but also synchronizes flawlessly with the DJ-themed mechanics. You will notice vivid hues and exuberant animations running all throughout the game, and creating an immersive feeling of embodying the legendary DJ Psycho.
Embracing the xCluster-based gameplay, the slot amps up the thrill factor with its fast-paced action and an array of innovative features. The game operates on a unique 4x4 grid layout, where victory is achieved by matching a minimum of 3 symbols in a cluster formation.
The game also introduces intriguing mechanics such as 'Break', 'Bite', and 'Drop', which ingeniously transform symbols to facilitate matches.
The excitement level escalates further with audacious features like 'xBPM' and 'xKnob', which ratchet up multipliers during the game's two electrifying bonus modes, 'Gees! Spins' and 'Psycho Spins'.
DJ Psycho isn't just about a new gameplay experience, but also a revamped betting sensation. Introducing boosted xBet, the game offers players an extra dimension to their bets, claims the studio.
The xBet feature is even accessible during the base game, providing enhanced odds to unlock the coveted bonus modes, all for the price of 335% of the base bet.
A Remix with Medium Volatility
Setting DJ Psycho apart from Nolimit's extensive library is its medium volatility rating, an atypical attribute for a provider celebrated for its heart-pounding volatility. But make no mistake, DJ Psycho doesn't hold back.
It retains the signature punch Nolimit City is renowned for. Think of it as a 'Remixed' version, boasting the max win feature that tantalizingly grants players the chance to walk away with a staggering 25,420x the base bet in theoretical winnings!
Speaking about the game, Per Lindheimer, the head of product at Nolimit City, remarked, "Feel the groove first-hand with DJ P5¥CHØ's very own slot."
Excitement is definitely skyrocketing this week as Nolimit City aficionados eagerly anticipate the arrival of DJ Psycho.
The game is set to hit all Nolimit City partner platforms on August 22nd, 2023, so get ready to spin the reels and embrace the rhythm like never before.
Source:
"Nolimit City brings the beats, with their latest release, DJ Psycho", nolimitcity.com, August 22nd, 2023.
"Nolimit City is gearing up to throw the ultimate party"
Casino Games
Back to articles