Back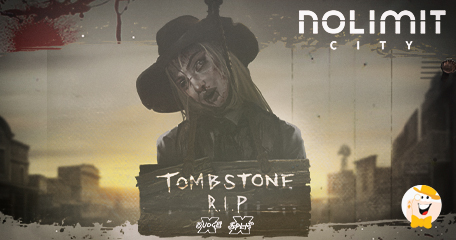 Swedish Game Studio Storms in with a New Shooter at the Beginning of 2022
If you're an avid slot gunslinger familiar with Deadwood, El Paso Gunfight and True Grit Redemption, get ready for a new mind-boggling western!
Nolimit City is back this January to kick off the new year with a bang and make a tribute to the past in a new sequel to the notoriously volatile slot Tombstone.
Almost three years after launching one of its most successful shoot-'em-ups back in 2019 that cemented the studio's far-reaching hugely rewarding mechanic xNudge, the international slot specialists saddle up for a new hoss opera in the Old West, called Tombstone R.I.P., where dirty bandits have caused more than enough felonies than justice can take.
Last Man Standing Cashes in a 300,000x Payout
The day when townsfolk will finally see some justice brought upon the outlaws has finally come. Edda Star, Skinny Joe and El Gordo have all been detained and now await their destiny with a horrible outcome.
All hell breaks loose when the wildest, most ruthless scoundrels to ever face the Wild West walk in the town square with their heads hanging low, tied and humiliated, knowing that soon they'll meet their maker…
The action in Tombstone R.I.P takes place on 5 reels with row setup as 2-3-3-3-1. On top of that, the mechanics are designed to give those that caused havoc a long and unpleasant experience, including xNudge Wilds and xSplit Wilds.
But that's not all! Nolimit City made sure to add xRIP and Hang 'Em High free spins to help with rope burn. Ironically, the last man standing can trigger a 300.000x payout, which is a worthy prize for catching the scoundrels after so many misdemeanors.
"Bigger, badder and more brutal," said Per Lindheimer about the game, product owner at Nolimit City.
He also stated that "Tombstone RIP takes no prisoners" meaning that players must remain tough before stepping into the old west once again. Lindheimer is extremely excited about the studio's latest title that easily pushes the boundaries unlike any previous shooter in the portfolio!
Tombstone R.I.P is available from January 11th, 2022 across mobile, tablet and desktop in partnership with affiliate online casinos.
Check out the official Nolimit City Feature Video Tombstone RIP!
Selecting the Right Caliber
To enter the game, players will have to provide several correct answers and state what ammo works best in Tombstone. There are three options: .44 caliber, .45 caliber and 12 gauge.
Next, you will have to reveal the best way of taking tobacco and there are also three answers here: by eating, eyeballing or chewing it.
Tombstone RIP is available with a dual RTP setup at 96.08% and 94.08%. If the Enhanced Bet option is enabled, the RTP setup is 96.28% and 94.25%.
The game is available in 24 different languages and more than 100 currencies. For casual gaming, a minimum bet of 0.10 EUR will suffice, while those looking for bigger payouts can try their luck with a maximum bet of 50 EUR for a spin.
The default bet is set at 1 EUR.
Source:
"It's the end of the line for Nolimit's first Western, enter Tombstone R.I.P", nolimitcity.com, January 11th, 2022.
"a worthy prize for catching the scoundrels"
Casino Games
Back to articles