Back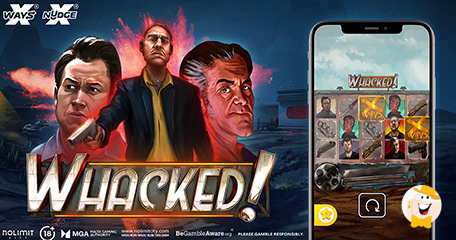 Nolimit City lights up the iGaming industry again with its new online casino release! The developer is known for its unique themes that take players' excitement to an even higher level and add additional mystery to the game!
After recently presenting its game Disturbed and delivering engaging features within this title, the developer is ready to explore the underworld of mobsters!
Hot Desert To Offer Engaging Game!
In its new game Whacked, Nolimit City promises unlimited fun and of course, an unexpected and unique theme that will surely increase your engagement!
The hot desert has lots to offer, and throughout this adventure, you will be accompanied by a group of suited-up mobsters! With an impressive art style and a captivating soundtrack, Whacked enters "the double-dealing world of mobsters, dames, and dough."
The excitement starts on a grid made up of 3 reels and 5 rows that are established around the Lock 'n' Load feature, as well as the well-known xWays® mechanic!
Spin your reels to take advantage of ropes, knives, brass knuckles, pistols, and shotguns, but also meet the members of this mobster gang!
Bonus Spins Also Available!
The developer's team was dedicated to supply an unforgettable iGaming experience! Whacked resented Whacked Spins bonus rounds where the real fun just begins! Moved in the dead of night, this round will raise the tension to an even higher level!
Introducing the innovative 'xRevolver' feature, a game-changer that amplifies multipliers, potentially turning the entire bonus on its head. Unlike traditional methods, the 'Russian Roulette' mechanic doesn't merely combine collections; instead, it multiplies them, making way for generous rewards.
Touted as 'Highly Volatile,' Whacked doesn't quite reach the same level as Nolimit's other titles labeled 'Extremely' and 'Insanely' Volatile.
Nevertheless, it packs an intense punch and delivers thrilling victories. In this chaotic realm of deception and betrayal, only a fortunate few can emerge victorious, earning the coveted title of the 'Last Man Standing.' These skilled players have the opportunity to claim the game's maximum prize, a staggering up to x11,912 times the initial wager!
Per Lindheimer, Head of Product at Nolimit City, said:"Welcome to the Family. Whacked is one of our lower volatile titles - although it still packs a lot of heat. As the title suggests, you'll need to keep your wits about you - and by wits, we mean a revolver... or you might end up getting Whacked!"
This thrilling adventure joins Nolimit's exciting games such as Disturbed, Fire in the Hole, and the not-so-long-ago-launched Pearl Harbor.
Without thinking, the latest release will fit perfectly into this unusual and engaging portfolio!
Source:
''Whacked - NOW LIVE!'', nolimitcity.com, May 23, 2023.
"game is bound to keep players on the edge of their seats.""
Casino Games
Back to articles