Back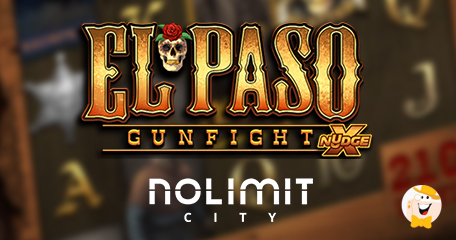 Available from 4 May 2021, 'El Paso Gunfight xNudge' represents Nolimit City's third journey to the Wild West. This new online slot features a potential up to 44,440x the bet and five different bonus variations!
The provider's third foray to the Dirty Old West is geared up with a heavy Western theme, starring a character with a love for booze, dual Smith & Wesson .44 caliber revolver and a kick-ass moustache.
Two Volatile Reel Setups
Saddling up and loading them guns for another Wild West action shooter is followed by a revolving reel area, ranging from 23334 to 43332 positions. Alongside its volatile mechanics and xNudge Wilds, El Paso Gunfight packs a host of new features that can easily outgun the studio's most iconic Western and gunfighter stories.
As stated by Nolimit City, El Paso Gunfight xNudge is by far the most daring game from the "trifecta of gunslinging slot titles" by the studio.
As a reminder, the team of experienced professionals from the iGaming industry with offices in Sweden, Malta and India has achieved huge success with Deadwood xNudge and the iconic title Tombstone, a redefining wild west epic set in the legendary town where the legendary shootout at the OK Corral took place.
The studio's simple yet effective mechanic xNudge that turns any game into a massive potential is paired with only the toughest Gunslinger protagonist ever known, Dallas Stoudenmire.
Players will have to choose between two different stances before they kick off – 23334 and 43332 – giving them space to increase their appetite for volatility in the base game. There are more than 5 bonus variations on offer, and thanks to the combination of scatter symbols which are capable of turning into jumping wilds, you can expect an enhanced gameplay all the time!
Meanwhile, looking out for Deputy & Marshal Raid, Gunfight Spins, Deputy & Marshal Gunfight Spins, Drunken Gunfight Spins, and more will entirely blow both previous installments out of the water, at least if you're focused on a stronger potential return.
"We're no strangers to pulling out our revolvers, and it's time again for another shootout taking place down in the infamous border town – El Paso, Texas," commented Per Lindheimer, product owner at the studio.
To summarize, the xNudge mechanic from Nolimit City is the driving engine of the Ol' Wild West trinity, only this slot has the capacity to outgrow a single six-shooter and rule the American Frontier.
Live with SuperSeven and TOPSport
As the year goes on, the Malta-based software provider continues to expand into new territories all over Europe. Among the latest achievements is their ever-growing presence in the Lithuanian market, where they partnered up with the fourth operator in the country, TOPsport.
However, an even bigger arrangement has been made with the revolutionary SuperSeven brand, known for a new market concept with fresh and exciting products in the online casino sector.
The brand boasts a one-of-a-kind in-house jackpot tool known as SuperPots, which is able to cover every single game on site and distribute huge rewards among the gaming community.
Source: "Nolimit saddles the Wild West a third time with El Paso Gunfight xNudge®", nolimitcity.com, May 4th, 2021.
"'El Paso Gunfight xNudge' represents Nolimit City's third journey to the Wild West"
Casino Games
Back to articles