Back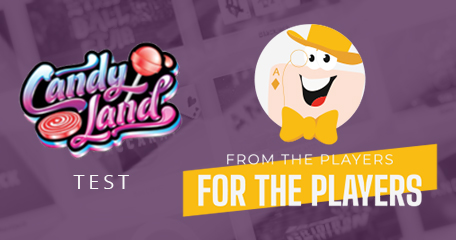 Frequent Wins Helped our Tester Play for 11 Days, but it Took 5 More for the Withdrawal
As online casinos continue to massively switch to cryptocurrencies, it is our job to keep our players in the know about their conduct and practices. Of course, the leading virtual token is still Bitcoin, since its trading volume and price have reached all-time highs more than once. Its current value is around $20,816.95 but that may change significantly by the time we publish this article.
In case you forgot, Bitcoin BTC/USD price made history only last year. The coin's value exceeded over 65,000 USD in November 2021.
So far, we've tested many Bitcoin casinos within our educational expansive project 'From the Players, for the Players'. You may remember some of them, such as SpinoVerse, Casino MAX, Slotsroom, True Fortune, Lion Slots, and Yebo, but one thing is certain: they are growing in numbers. Fast.
This time around, we are presenting you another interesting report at a Bitcoin-friendly casino, where our tester, Juggaloroscoe, registered, deposited, played some slots for about 10 days, verified his account, and withdrew the remaining balance.
Here's a brief summary of the test:
Tester of the casino: Juggaloroscoe
Date of registering: MON, Oct 3rd 2022
Deposit: $200.00 in Bitcoin on MON, Oct 3rd 2022
KYC: ID screenshot and a picture of tester holding identity card
Withdrawal: Requested $50.00 on FRI, Oct 14th confirmed on WED, Oct 19th
It turns out that it took 16 days to complete the test. Let's find out more about our player's experience and see if something went wrong or he just enjoyed his time with the casino.
Registration
The registration with Candyland Casino took place on Monday, October 3rd 2022. Our tester opened an account by going through three steps which require from each new customer to enter their email, username, password, mobile phone, address details, currency, and a secret question with answer.

After signing up, Juggaloroscoe was asked to log in and proceed to his account.

Our tester's next task was to make a juicy deposit. Let's discover more about the process in our next chapter.
Depositing
There are three main options to make a deposit at Candyland Casino, but around 10+ different banking methods. Once our tester entered the cashier, he was presented with three choices: Credit Card, Cryptos, and Others/Cash.
Juggaloroscoe selected Bitcoin as his preferred method and transferred $200 or, at that time, around 0.01041889 BTC. The transaction was completed within minutes.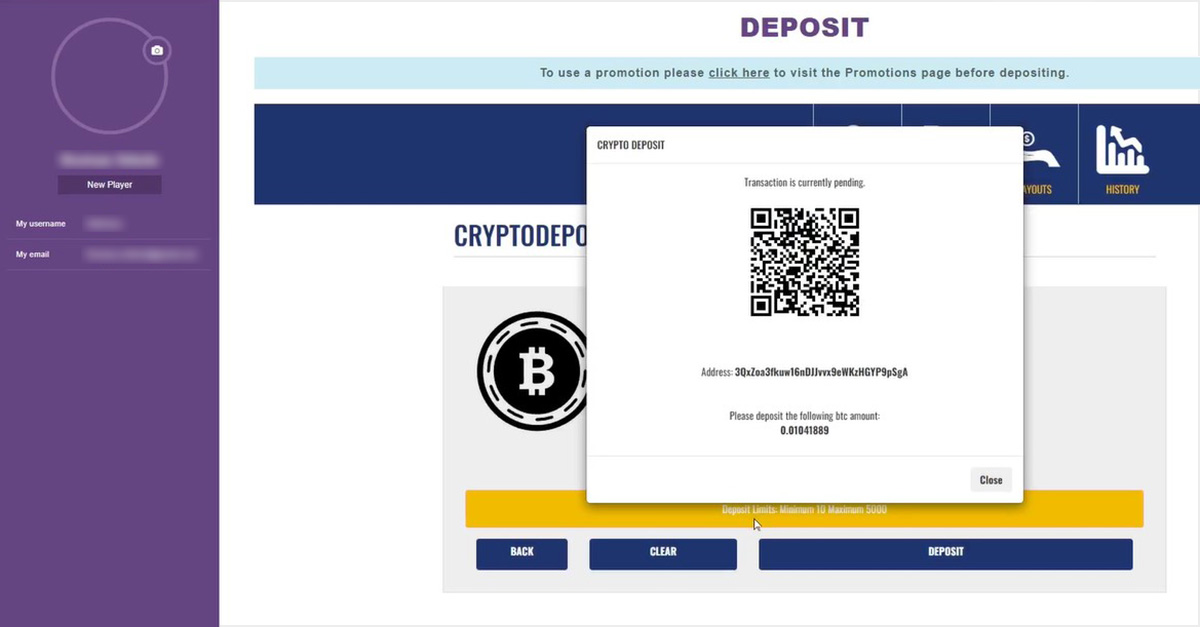 Before we continue with our test report, let us just say that Candyland Casino has a minimum deposit policy of $50 just to verify an account. We couldn't find any details about the maximum deposit limits, so the best way to inquire more would be by contacting customer support on live chat.
In case you need to see more on how to create crypto wallets, watch our practical guide to Bitcoin casino deposits right here:
Gameplay
With $200 in his newly created casino account, Juggaloroscoe had all the freedom in terms of playing his favorite slots on the platform. Its library is built by Betsoft, RIVAL, Saucify, Tom Horn, Arrows Edge, FUGASO, Fresh Deck, and Dragon Gaming.
His first pick was Fruit Zen, a 2014 classic from Betsoft with a 200,000 credits maximum win. Our tester's biggest win on this game was $21.50 after a couple of minutes of playing, but only for a while. Once he started losing money, our player immediately switched to Alkemor's Tower.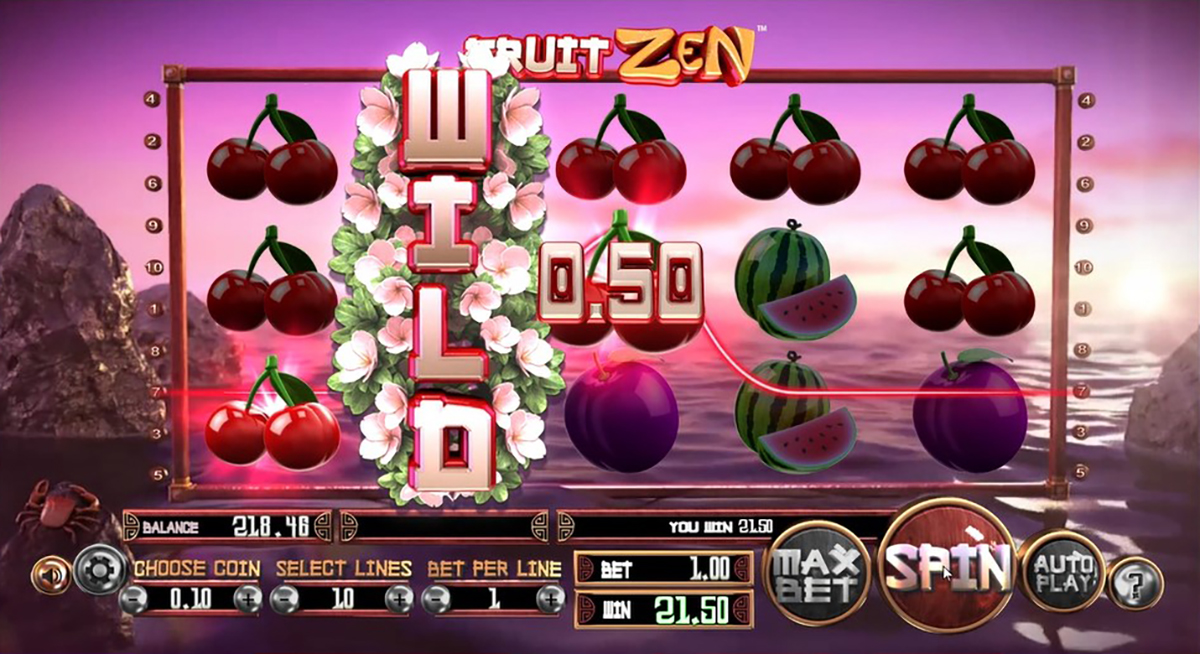 He hit around $36.40 with a $2.40 bet within the first minute of playing, but fell down to $148.60 and decided to make a change. Juggaloroscoe picked Diamond Rhino from RIVAL as his next favorite.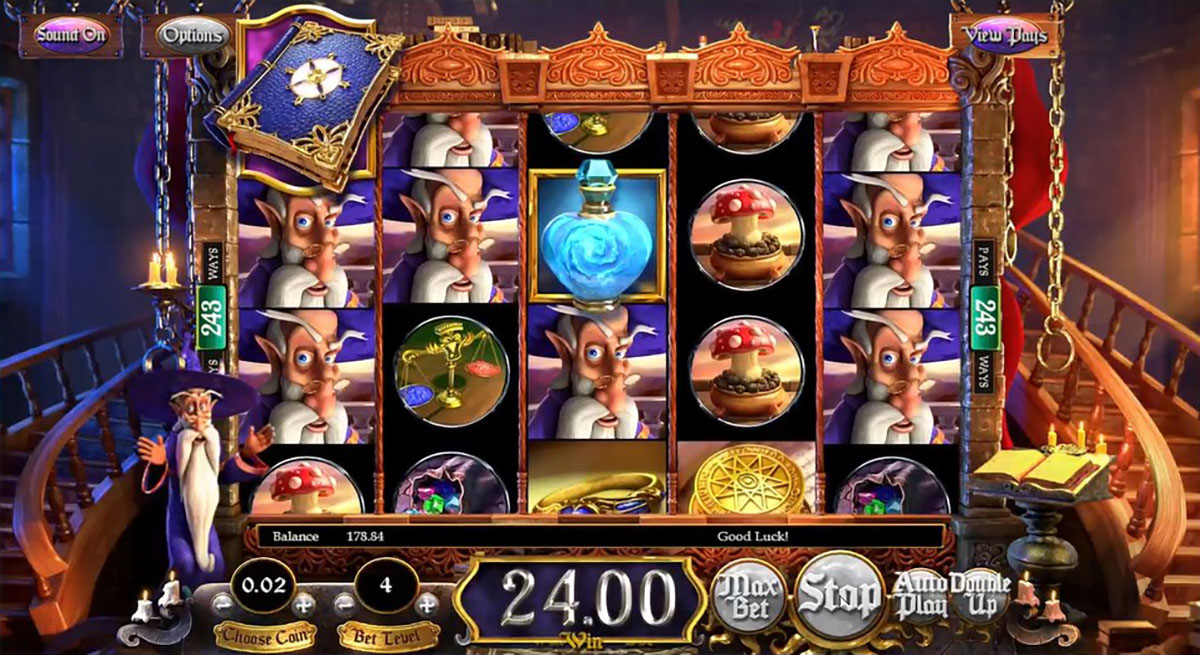 No luck there as with the previous two picks. Our tester tried playing Thunderbird but lowered the bet to $0.50 a spin. A nice win of $35.04 occurred during free spins, helping our player to stick around for a bit longer.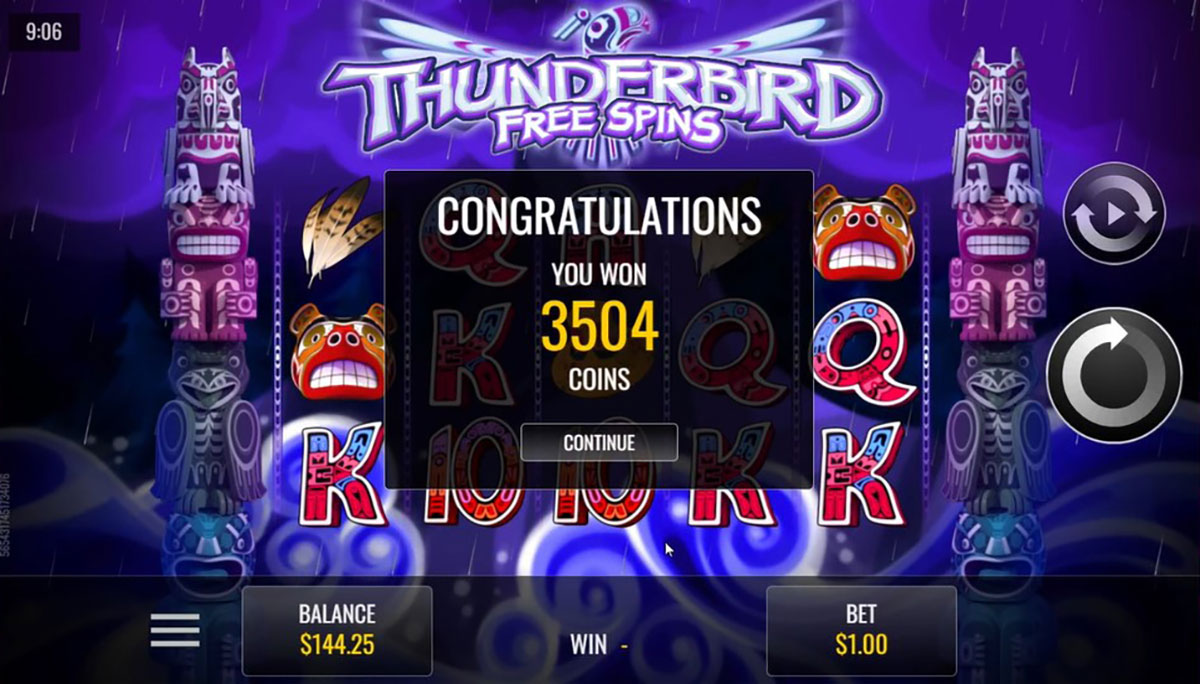 Long story short, Juggaloroscoe also played SugarPop Double Dipped, iScream, and Buffalo Bounty, where he made a Mega Win of $30.00.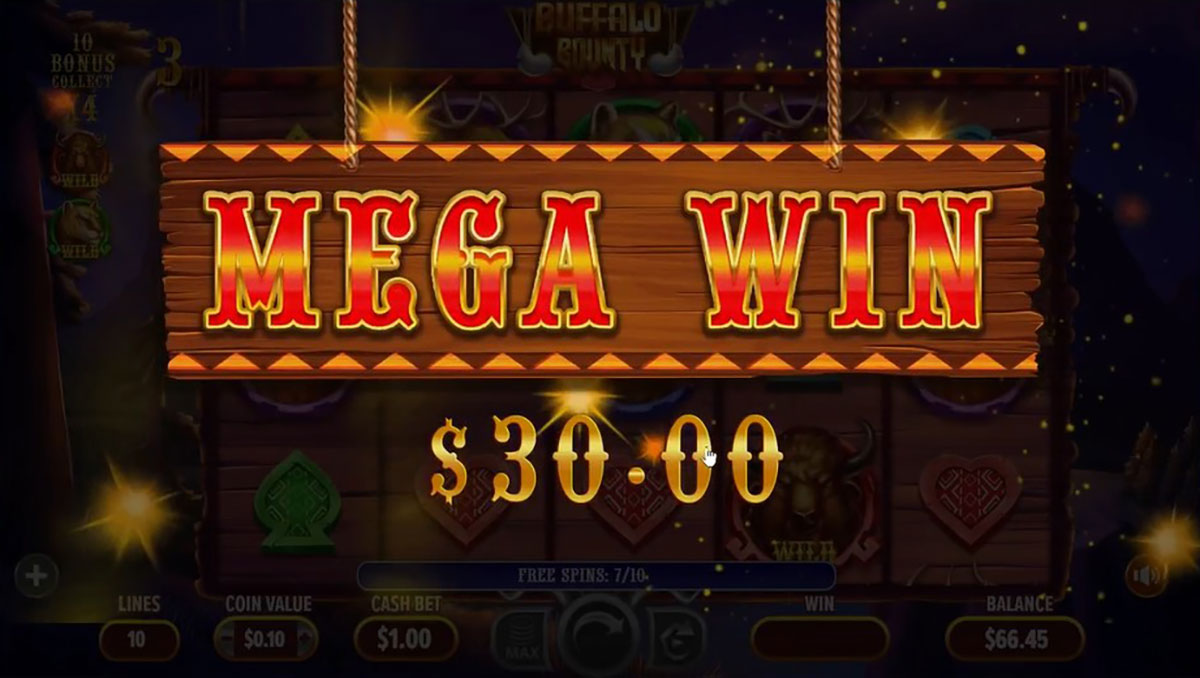 The last couple of games before the withdrawal were Mythic Wolf Sacred Moon (Mega Win 1310 credits) and Alkemor's Tower once again, where our player managed to stay afloat with minor wins for another 10 minutes or so before dropping down to $50.11.
Withdrawal and KYC
To be able to get the remaining amount of his account money, the casino asked our player to send in the documents according to the method he used to deposit.
Juggaloroscoe submitted his docs for verification on October 12th, 2022. It took some 24 hours to get verified after sending his ID and a photo of him holding the document.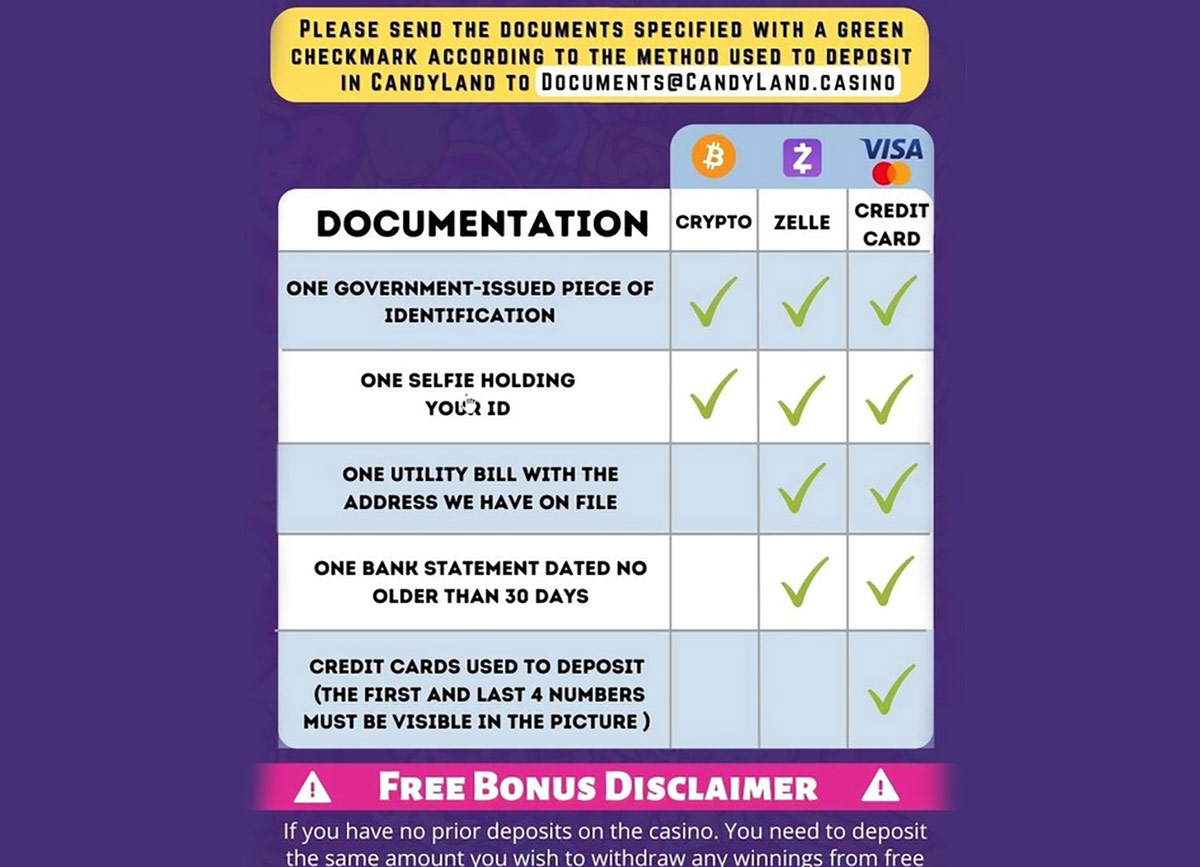 The withdrawal of $50.00 in Bitcoin was finally requested on October 14th, 2022. This transaction was successfully completed but some five days later, on October 19th, 2022.
A little too long for a minor crypto withdrawal, perhaps.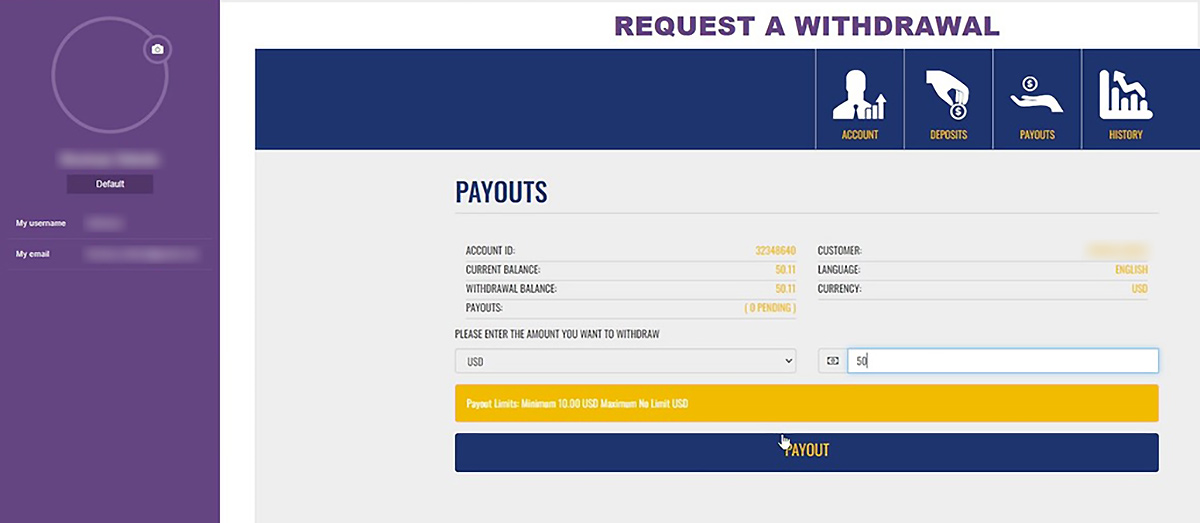 The minimum withdrawal amount at the casino is $25, according to its Terms and Conditions. Clients who make deposits at Candyland Casino without claiming a bonus are eligible for $10,000 in withdrawals weekly.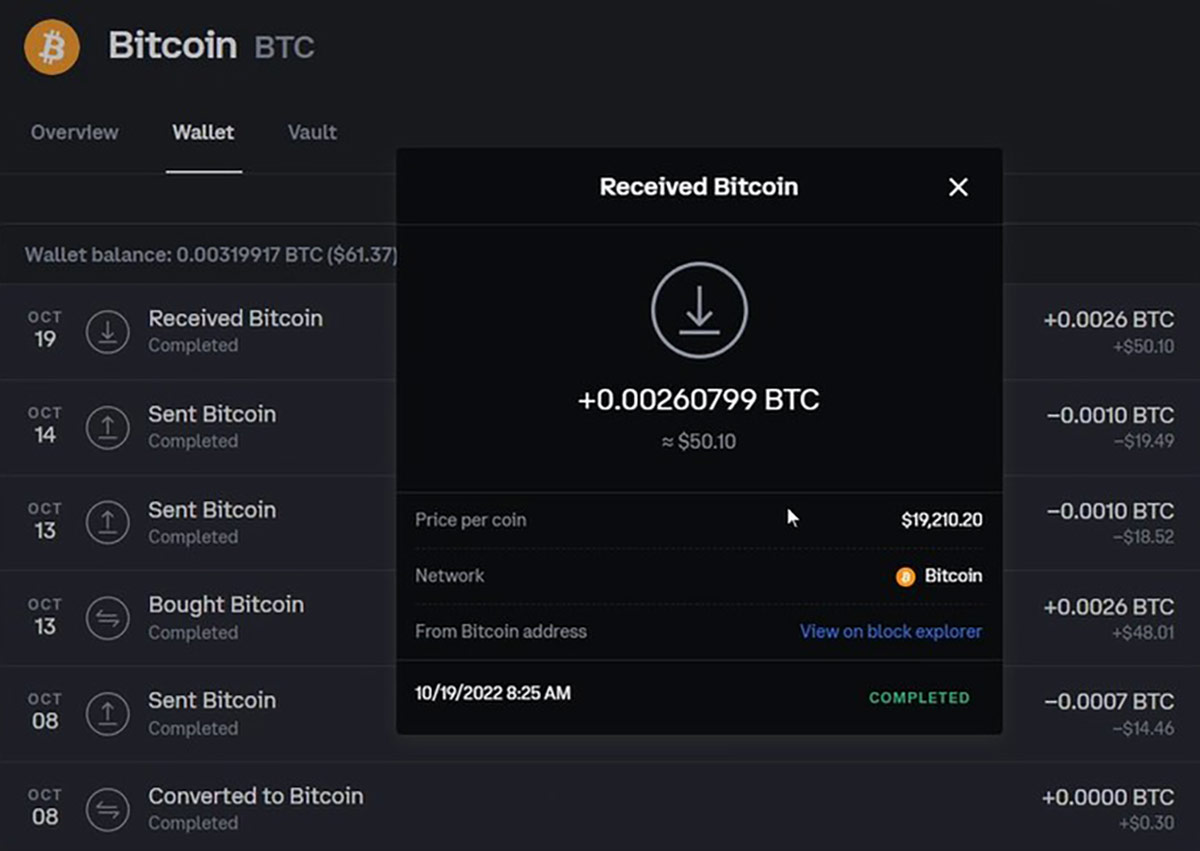 Conclusion
So, it seems that our player had a laidback experience with this operator. Although the test expands for up to 16 days, it took 24 hours to verify the account and 5 more days to receive the money. The reason why our tester had fun at this place so much is perhaps because of the wins that kept him going on a daily basis.
Thank you for reading and play responsibly!
"it took 16 days to complete the test"
From the Players for the Players
Back to articles