Back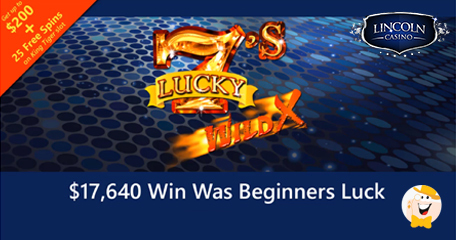 Well, it's a fine morning in Alabama for one of its residents who recently signed up with Lincoln Casino, home to unparalleled weekly deals, loyalty program, tiered rewards and an ever-evolving tournament system.
It is said that beginner's luck exists because "life wants you to achieve your highest dreams, so it gives you a taste of success when you first start, to encourage you to keep going." Sunday afternoon on November 16th, 2019 was the epitome of perfect timing for Chris, as he triggered an incredible $17,640 payout while playing 7X Lucky 7s, a slot release from May 2017, powered by WGS Technology.
Even the casino's manager, Ryan Wilson, was completely blown away by this fortunate event, stating: "I've never seen a new player get so lucky on their very first day!"
According to Chris, who was feeling rather bored on that Sunday afternoon due to poor weather conditions, Lincoln Casino seemed like a good place to be, so he decided to claim the offer for depositing and it give it a go. What follow is a…
First Bankroll Burnout!
It wasn't really that easy for Chris to win a progressive jackpot. First, he had to burn through a $100 bankroll out of some reason and give it another chance. Luckily, choosing the right game from the Wild X series of slots by Wager Gaming is simple, as many have huge multipliers and belong to the operator's jackpot network of $25,000.
7x Lucky Sevens is a three-reel slot with a Must Win prize, based on the wilds with interconnected boosters. With two wild symbols, the multiplier can actually reach 49 times the initial bet, easily triggering the guaranteed progressive jackpot.
In addition, as the value of this prize slowly reaches the must-win threshold, the odds of hitting it keep getting better and better…
While betting only two dollars per spin, Chris managed to accumulate a smaller fortune of approximately $1000 and restore what he had previously lost. Then, after increasing the bet, all of a sudden, a red seven appeared on the first reel, followed by another Lucky 7 Wild on reel two and ultimately another Lucky 7 wild symbol on reel three.
A Fortune for a $6 Investment
For those who never played 7X Lucky 7s, the next couple of lines are crucial, so pay attention. Landing three red sevens pays 180X the coin bet and one Lucky 7 wild increases the amount up to 7 times. Addedly, two wilds make it 49X, triggering a payout of $17,640. Of course, this can only happen if the entire bet is set at merely $6.
Here's what Chris had to say while still trying to get his head around:
"When does this ever happen to anyone? On your first try!? I was into the game but to be honest I was keeping my eye on the progressive jackpot. It was reasonably close to a Must Win so I figured I might have a chance. But this, this is so much better! I'll play some more, but I'm going to be able to pay off my car with this!"
As a well-ranked gaming platform powered by Wager Gaming Technology software, Lincoln Casino offers either the download option or instant play mode on any device.
First-time depositors can earn $3 LCB chips by registering through our website and even participate in an exclusive $600 Turkey Day freeroll tournament taking place this November.
The operator is currently offering new players an instant boost on sign-up to experience maximum gameplay plus 25 casino spins on King Tiger. The coupon code is KINGSPINS.
Good luck, LCB'ers!
"he triggered an incredible $17,640 payout"
General Gambling News
Back to articles