Back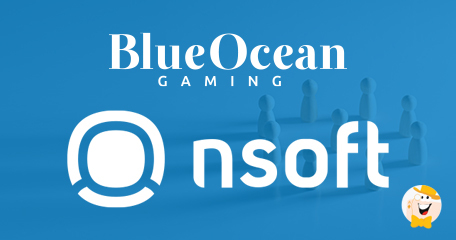 Architects of the iGaming's all-inclusive SEVEN platform, sportsbook, virtual sports and table games, NSoft, have announced a landmark content aggregation deal with BlueOcean Gaming, a top tier provider of highly exclusive casino products and white label solutions.
Under the terms of the agreement, Gamehub will distribute a full portfolio of over 2500 games from 30+ game providers to a list of web clients and brands in the following period, including sportsbook operators who are looking for ways to minimize the effects of canceled sporting events.
The Best Alternative Solution
During the transition period without leagues and international competitions, sportsbook operators have started entering into arrangements with leading software platforms to minimize the effect of the worldwide situation on their revenues.
NSoft is among these enterprises and it has found an alternative to diversify virtual sports with a powerful compilation of premium casino slot games and live dealers by striking a deal with BlueOcean Gaming, an independent B2B retailer. Strategic partnership manager at NSoft, Lazar Miucin, commented about the latest agreement:
"NSoft's offer of industry's leading virtual games content is, especially now, during the period of new normal, among the top requested content in the industry. Being able to offer our top-performing products complemented by superior BlueOcean Gaming content will definitely take our partners a step ahead of the competition."
Dejan Jovic, chief executive at Blue Ocean Gaming followed and said that NSoft has already recognized the quality of the company's plug and play system as an existing partner:
"As we use existing integration between us and operators, we can react fast and add fresh virtual sports content to operator's betting websites in a matter of a couple of minutes. Cooperating with NSoft, leading software provider, is yet another proof of our excellence," concluded Jovic.
Gamehub's Expansion Endeavors
BlueOcean has been very busy expanding its business footprint and usability in March and April by striking a deal with three top-ranking providers in the iGaming industry. Among the new clients are Kalamba Games, Salsa Technology (formerly known as Patagonia Entertainment) and EnerGaming, a relatively new B2B vendor with operations in Tanzania, Zambia and Kenya under PlayMaster brand.
"We are happy to start collaboration with BlueOcean gaming, which will help us to increase our brand presence and share in countries of our operation. It took us no time include content portfolio from GameHub to our brands due to professionalism of BlueOcean's team," said founder and CEO of EnerGaming, Edgar Pambukyan at the beginning of April.
BlueOcean offers a series of benefits for operators after the integration, including a set of additional features such as Free Round API, Game History API and Unified Jackpot Feed API. Each one of these toolkits is easy to use, time saving and constructed to grow existing online casino businesses. With a database of almost 2500 games and more than 20.000 events per month, sportsbooks can except a sustainable revenue growth.
Global business development manager at Salsa Technology, Victor Arias, commented the relationship with BlueOcean as a thrilling venture to understanding local LatAm markets and player preferences, meaning that the conjoined portfolios will become an instant hit.
Source:
"NSoft offers BlueOcean Gaming's content to its full web clients", nsoft.com, May 6, 2020.
"NSoft, have announced a landmark content aggregation deal"
General Gambling News
Back to articles