Back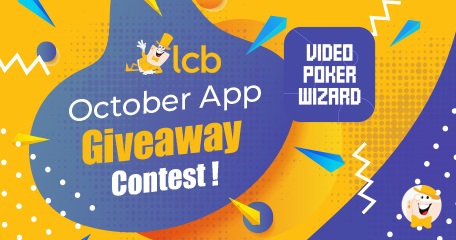 Pokies and card sharks are in for a big surprise this month, as our lovely directory admin and forum overlord, Lipstick, launches another kick-ass giveaway contest, allowing participants to win the Video Poker Wizard App.
If you too are super excited about this great opportunity and video poker is your passion, stay awhile and learn how to qualify – the offer stands for both experienced and entry-level players, no strings attached!
Camera Ready, Prepare the Flash!
To enter our latest one-of-a-kind raffle and get one step closer to becoming a pro, thanks to Michael Shackleford's supreme Video Poker Wizard App with 18 different games, you just need to navigate to the Free Video Poker tab on our site and play any of the variants available.
Now, we'll be needing a proof of your gaming session, so taking a screenshot of your best hand is a MUST! You can upload it in this forum thread. Interested participants may enter once per day and the number of apps for giveaway will be determined by the number of entries.
Needless to say, all partakers must be a member of LCB by September 7th, 2019 to qualify. The contest is running until October 21st at 11:59 EST.
So, if you want to learn how to analyze a hand and game paytable plus practice playing on the side, lock and load, it's pokies time! There are many strategies in the world's favorite game of chance to be discovered, and the value of this giveaway is light years ahead of the competition! The app can successfully:
Project the outcome of the game
Keep track of cards played or cards prepared for play
Analyze the probability
Analyze the strategy for playing or betting
Most importantly, this online pocket hub improves your poker skills responsibly! You can start by choosing a variety of poker games and select your favorite based on your skill levels or preferences.
After each game, you can get game analytics and learn more about wagers, wins, return-to-player rate as well as your winning accuracy. For advanced users, the Wizard has even built in an integrated analytical tool that provides info on returns, variance, deviations, hit frequency and a bankroll calculator!
On a related note, some of the free games are created in Flash and we all know Google's policy on this multimedia software platform. If you need help for your browser, pay a visit to the Adobe Flash Player Help section and update your settings by clicking "allow" when prompted a request to enable it.
Michael Shackleford, also known as "The Wizard of Odds," is an American mathematician and an actuary, famous for professional analysis of various casino games, gambling studies and strategies for table games.
Good luck, folks!
"win the Video Poker Wizard App"
LCB News
Back to articles