Back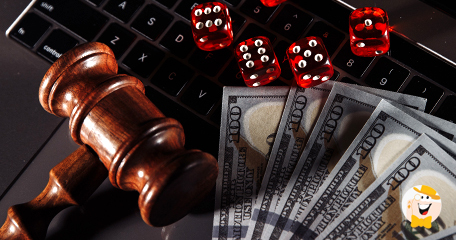 In recent news, Nevada's gaming regulators have taken a strong stance against illegal offshore internet gambling casinos, urging U.S. Attorney General Merrick Garland to break down these operations. Coinciding with this, a retired Canadian attorney named, Victor Janicki, has filed a case against one of those sites.
Events That Preceded
Janicki, hailing from Kelowna, British Columbia, filed a lawsuit in the British Columbia Supreme Court, alleging that he was swindled out of a $220,550 jackpot from a blackjack side bet he placed at BetOnline.ag.
This offshore internet casino, based in Costa Rica and registered in Antigua, seems to be affiliated with Visionary iGaming, located in San Jose, Costa Rica.
According to the case, Janicki staked around $40 per hand while playing blackjack on February 23, also placing a $1 side bet.
This side bet offered the possibility of winning a substantial jackpot if he received three 7s of diamonds from a six-deck shoe in a single hand.
At approximately 1 p.m., according to him, that's exactly what happened, making him eligible for the jackpot.
However, the situation took an unexpected turn when his computer screen went black for about 10 seconds, obstructing his view of the blackjack table. This was the first time he experienced such an issue.
Upon the screen's return, Janicki was met with congratulations from two casino employees, informing him of his jackpot win. Excited, he joined a table chatroom to inquire about the payment process. To his dismay, he was then informed that there had been a mistake, and he had not actually won the grand prize.
Strange Video
Over the next couple of months, Janicki made multiple attempts to contact BetOnline.ag and Visionary iGaming to obtain a copy of the video recording from the game in question. Having a record of the specific hand and game, he believed the video would support his claim. In early April, Janicki received an unexpected response—a video allegedly depicting a re-enactment of the dealt hand.
In this reenactment, the dealer handed Janicki two 7s of diamonds and dealt himself one card face down. The dealer stated that Janicki was eligible for the jackpot due to his existing two 7s of diamonds. A woman then entered the frame, confirming Janicki's eligibility and wishing him good luck before leaving. Next, the dealer dealt himself a 10 and matched the face-down card, revealing it to be an ace. The game concluded, but the video showed that Janicki was never dealt a third card.
Janicki and the lawsuit declare that the events did not unfold as depicted in the video provided. However, contacting BetOnline.ag and Visionary iGaming through email has proven unsuccessful thus far.
As a retired attorney experienced in criminal cases, Janicki took it upon himself to file the lawsuit on April 25. Additionally, he enlisted the services of a law firm in San Jose, Costa Rica, to serve the civil claim to BetOnline.ag and Visionary iGaming.
Now, Janicki awaits the defendants' response, as Canadian law allows them 49 days to reply when the lawsuit is served outside of Canada or the United States. Subsequently, a judge in British Columbia can render a judgment in the case, ideally around June 13.
Source:
''Canadian gambler files suit over $220K jackpot'', reviewjournal.com, 14.05.2023.
Gambling Law & Society News
Back to articles