Back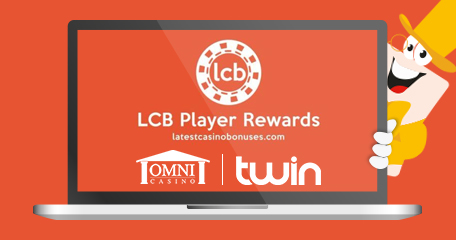 Here at LCB, it has become quite normal to occasionally introduce a new venue, and this time it's all about two new casinos that have joined our prestige Member Rewards – Omni and Twin. Now, we know it might sound a bit like the Laurel and Hardy comedy duo from early Classical Hollywood era, but to be honest, it's nothing like that. Both gaming venues carry a unique set of promotions, fast payout times, and most importantly, a great collection of games. So, if you want to earn $3 LCB chips when making your first deposit at these joints, stay tuned for more details.
The Rewards Program offers many methods to earn credits, and, as some of you might know, all of them are redeemable at the LCB Shop. The program is exclusive to first-time depositors at participating casinos only, and getting on that list is not as easy as it might seem – according to an increased number of recently added sites for online betting, such as Cadoola, 7 Gods or CryptoSlots. In fact, there is an entire set of rules and regulations to follow in order to enter our legendary program, that only the bravest and slickest brands decide to go that line. Hence, the best way to show our gratitude is to make this experience beneficial for both sides, forum members aka players and online casinos.
Okay, enough cliches, how do I start? Well, the first thing you need to do is to head out to our list of participating casinos and find Omni and Twin. While you're there, have a look at other eligible casinos, you never know what you might find. Also, to make things visually easier, our designers created a yellow $3 LCB Chip banner and disclaimer on the review page next to the name of the site. Then, register at the casino of your liking and place a deposit there. Once you're through, we will award you with a $3 chip which can be redeemed in our Shop for any of the items, including special deals, spins, bonuses, t-shirts, mugs and more.
The Members Program can literally lift your casino experience to new heights, so stop wasting your time reading this article, cause if you know what's good for you, you'll discover a unique way of plundering our site's hidden treasures. Get to know premium online casinos and reach the other side of gambling - no Jedi included.
"new casinos that have joined our prestige Member Rewards – Omni and Twin"
LCB News
Back to articles